2
10 Tips for a great Universal Studios Singapore visit
Universal Studios Singapore is well-known not only for its cool rides and attractions but also for its crowds and long queues. It has a 20 hectares perimeter filled with tons of entertainment. Hence, minimize the chances of being jostled around by checking out the 10 valuable tips in utilizing your time and money efficiently.
1. The Earlier the Better
The saying 'better late than never' can not be applied here, as the earlier you get to Universal Studios Singapore, the better. It is one of the most visited sites in Singapore. With that being said, it is better to plan ahead for your drive or transportation to get onsite early. The opening hours usually start around 9.30 am for the early birds and 10 am every day. Hence, it is advisable for you to be there at least half an hour early. Honestly, there are plenty of advantages if you arrive early. Well, for starters, you could check on the show schedules of the day, spend less time in queues, and most importantly, you do not need to rush. Rushing is never an ideal way to start your day. Thus, be early as your day will commence with excitement and joy.
2. Pick the Best Time
Here's an important tip, in order to ensure that your trip does not get too congested, avoid weekends and public holidays. Well, you will not be the only one planning on these days as the majority of visitors would be too. Although the best time to visit the Studio is all around the year, you should consider the possibilities of the place being over-crowded. This could cost you ample time which can be saved if planned right. However, bear in mind that Singapore school holidays also play a major role here. Thus, after selecting the month and date of your visit, do check the holiday calendar of Singapore before purchasing your tickets online. On the other hand, for weekend visitors, plan ahead for the Hollywood Dreams Parade and the Lake Hollywood Spectacular fireworks show.
3. Pay Less with Promotion Tickets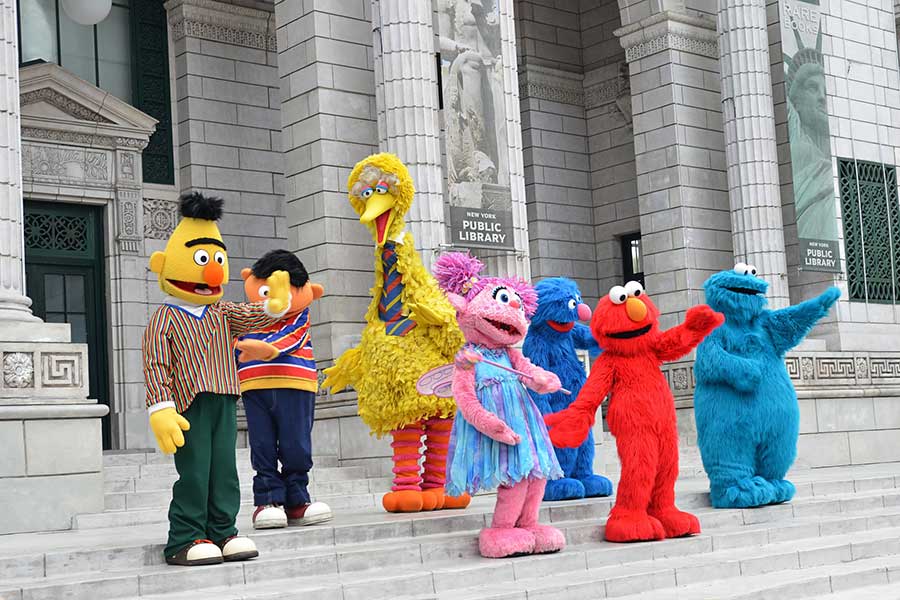 Why pay more when you can save a buck by purchasing Universal Studios discount tickets online at attractionsbox? As the saying goes, a penny saved is a penny earned, do check out on the promotion packages offered at the attractionsbox. Here's a tip, create a list of places you intend to explore during your trip to Singapore. Then, check our other promotions out on our websites. Other attractions such as S.E.A. Aquarium, Dolphin Island, Adventure Cove Waterpark and several others are available to be booked for a cheaper price as well. Select your packages and purchase them together to receive more discounts through the 'bundle discount'.
To increase your bundle discount simply add more different attractions to your cart. This is a more efficient way for you to save time and money by purchasing all together at our one-stop station. Children aged 0-3 get FREE entrance. Do not miss out on this opportunity to bring your young ones to enjoy the fun-filled site as well.
4. Advantages of the Universal Express Passes
Having difficulties waiting in a long queue? Worry no longer because there is a solution for that. It is called Express Pass. That's right, Express Pass saves you from the hassle and the long stretched line to get straight to the action. There are two types of Express Pass tickets, Universal Express ticket, and Universal Express Unlimited. The function of these tickets is to reduce your waiting period before every ride, if there are two rows of waiting lines, one of them is for the normal pass and one is for the express one.
The approximate waiting period for a ride using a normal ticket would be from 1 to 2 hours, but with the express ticket, you would probably wait approximately 30 minutes or less. It is more of a 'skip-the-line' ticket. The difference between the Express Pass and Express Pass Unlimited is that the unlimited pass allows you to use the express line multiple times compared to the basic Express Pass is limited to 1-time usage at each participating attraction.
The Express Pass would cost roughly about S$40 and Express Pass Unlimited would be around S$70. However, they practice dynamic pricing in effect, thus if the demand is high the price of the tickets will increase. Hence, the smartest move is to purchase the ticket online beforehand, rather than obtaining them at the Universal Studios ticket booth. There you go, if you do not want to spend your entire day waiting in long lines, then you will need to pony up for the express pass.
5. Planning Ahead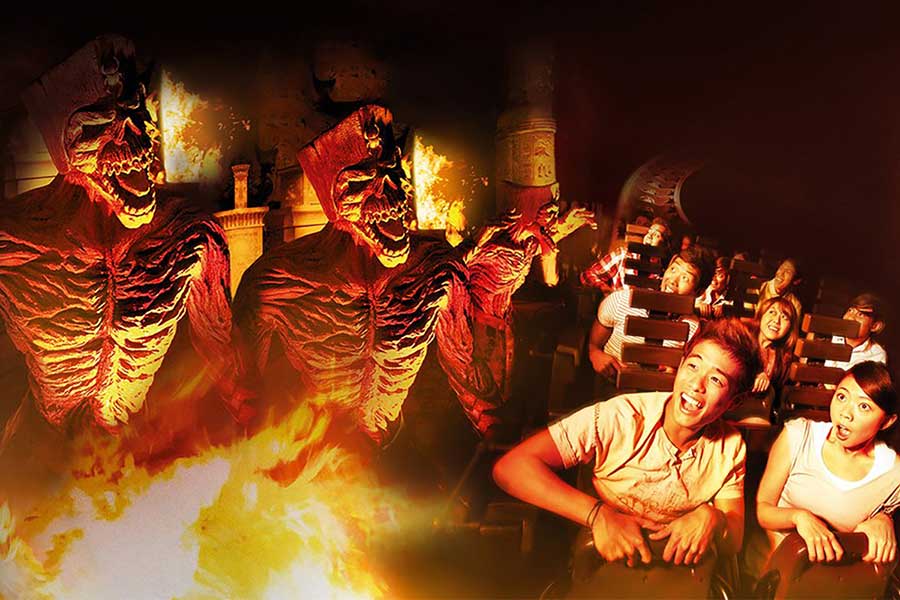 Planning is the key to a successful trip. Hence, plan your day accordingly before entering Universal Studios as there are numerous attractions that require a massive time of its own. Like the first tip, it is important to arrive early in order to beat the crowd. With those extra minutes, you can start calling dibs on your choice of rides way before the queues start piling up. Just as the saying goes, 'better safe than sorry', always plan ahead about utilizing every moment you have to explore and participate in all the attractions there is to offer.
Universal Studios Singapore is just about the size of 25 soccer fields, but do not underestimate it as it is much more packed with attractions that eat up your time in a bite. In order to get a clearer picture of how it is going to be over here, do check out on the park map online. Now, imagine Universal Studios Singapore is around 'lollipop' with a hole in the middle. The 'stick' holding the lollipop is Hollywood, this zone marks a tribute to the Universal Studios Hollywood's history. Hollywood is the place for you to discover a cluster of shops eateries, park services and also the famous golden Hollywood stars embedded into the pavement. As soon as you overcome the 'stick', the diameter of the 'lollipop' is the attractions and the 'hole' in the middle represents Hollywood Lake. There are only two ways for you to start your journey, either take left or right.
On your right, your first stop destination would be New York, followed by Sci-Fi City leading to Ancient Egypt (The Mummy). This path eventually joins up with The Lost World. If you happen to make a left at the start, your first themed zone would be Madagascar which is followed by Far, Far, Away ( Shrek-land) and connects back to the Lost World of Jurassic Park. Hence, the attractions are just in a circle. The left and right lane can be summarized like this: the left pathway is more child-orientated and the right is more to grown-ups seeking thrills.
6. Utilize Your Day Perfectly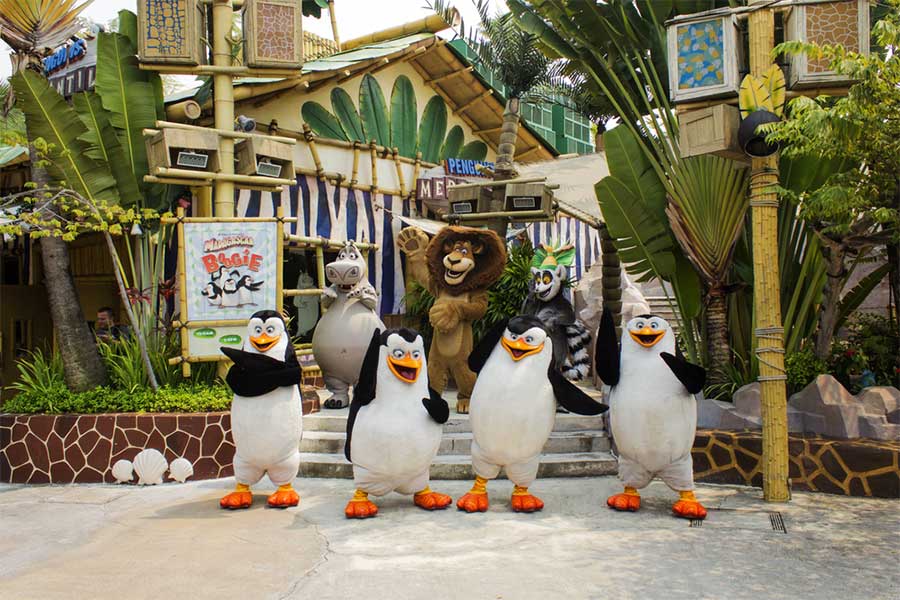 Time is money, as they would say it. Half-day is not sufficient to enjoy all the spectacular features in the Universal Studios. It is best to allocate one whole day for this place in order to make it worth your time and money. If you are planning to leave the place halfway and come back later, yes you may. Re-entry is allowed on the same day but make sure to get a hand stamp at the exit. Besides that, choosing your rides beforehand is also one great way to utilize your visiting duration to the fullest.
This way, you could head directly towards your 'bucket-list' rides rather than exploring others one-by-one. It is indeed an effective method which can save your energy and time as well. Plan it right according to your group, as view may differ depending on age and disposition. If you are with your children, start with Madagascar: A Crate Adventure, then probably move to King Julien's Party-Go-Round and so on. As for adrenaline junkies or thrill-seekers, you shall begin with the Battlestar Galactica: CYLON/HUMAN then head to the Revenge of the Mummy and others.
7. Precaution is Better than Cure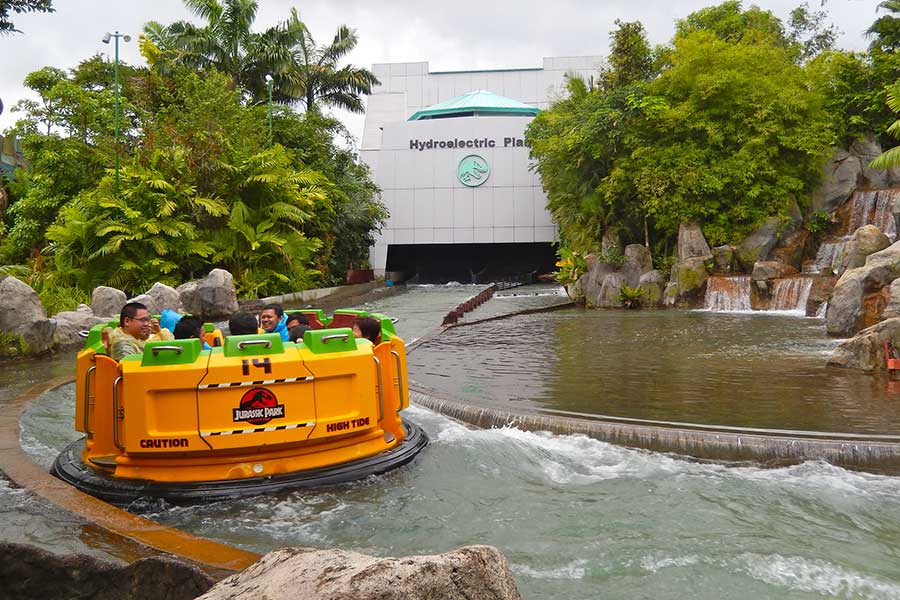 Now, this is an important tip to ensure your comfort during your visit. Singapore has a tropical climate. It is hot and humid at most times, hence, bringing sunblock lotions and a fan would definitely be useful. There are several small portable fans that operate on battery which can also be easily carried along with. Those who have sensitive skin, it is advisable to bring suitable lotions or cream which protects the skin from the direct sunlight and UV Rays. Now, to those who are not planning to get wet, well, Jurassic Park Rapids Adventure might surprise you.
It is an exciting water ride that sails you to the heart of a dino country. Beware as you are bound to get wet during those rides. Do not worry as you will be able to purchase ponchos from a vending machine along the queue or the shops around the park. It is definitely better to bring your own ponchos to save a little more time by not queuing. After the ride, you may dispose of the ponchos at the designated area. Drying pods are provided outside rides for those who did not wear ponchos and are soaked. You will be charged for using these pods.
8. No Rush No Fuss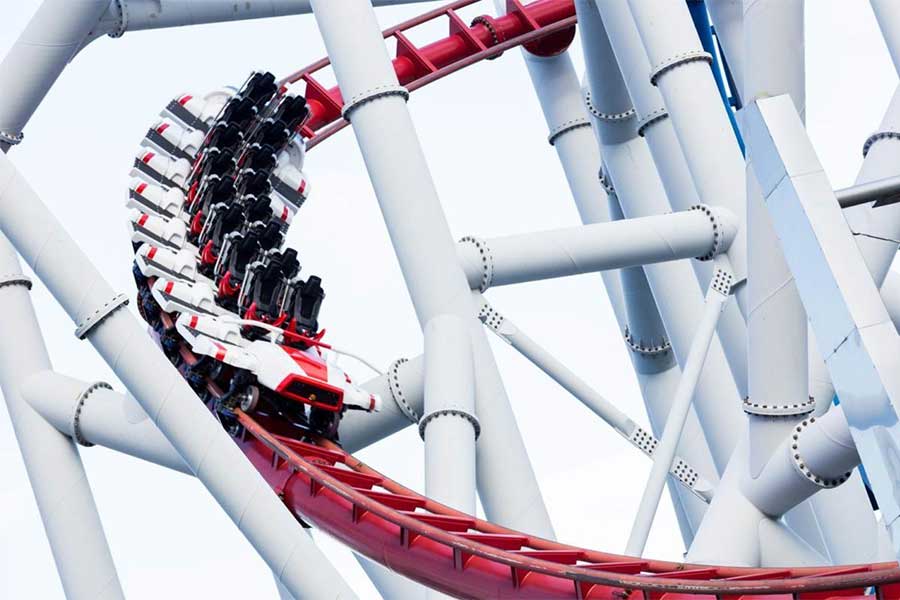 Just like any normal theatre, it is best to arrive at least 10 minutes early before the show starts. The queuing process would take a bit of your time, hence, if you are late, then you are bound to not get a seat and wait for the next show. Note the fact that the shows start precisely according to the prepared showtime. If you travel in a large group or family then it is definitely advisable to be early in order to enjoy the show together as one.
9. Beneficial Tool Guide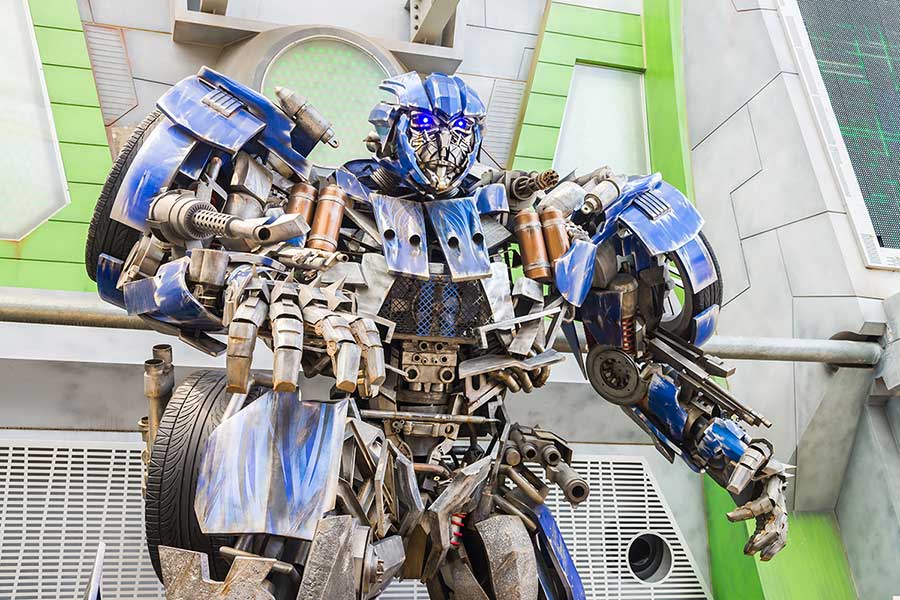 Here is another beneficial tip, do not miss out on picking up a programme sheet at the entrance. This sheet would guide you on all the events and shows commencing on the day of your visit. This could be a great tool for you to strategize your plan on spots to be visited throughout the day. Do not miss out on the special 'meet-and-greet' with Diane, the infant triceratops and other long lost carnivores at The Lost World of Jurassic Park.
10. 'Shortcuts'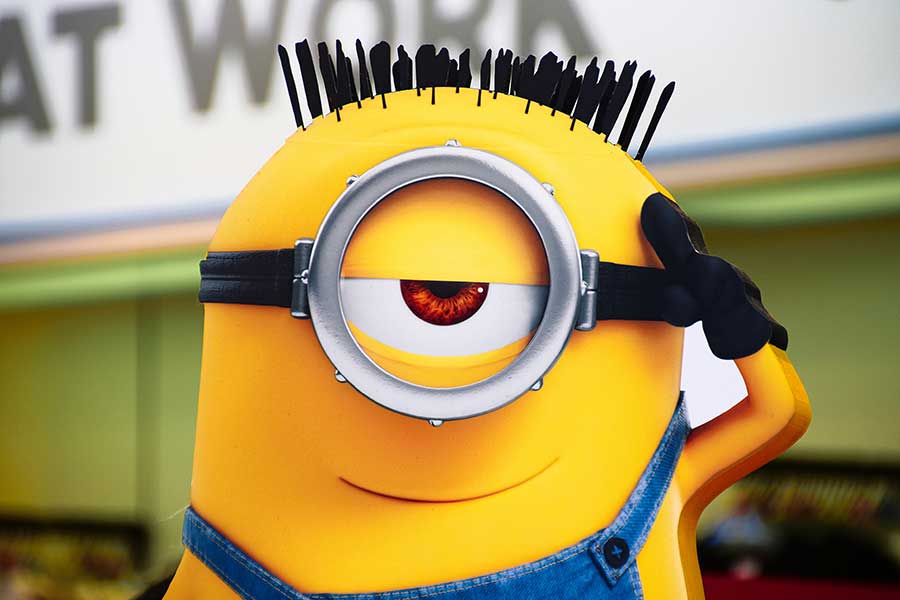 It is definitely going to be time-consuming if you do not purchase the Universal Express Pass. Here are some tips to save you a tiny bit of time. Upon arriving at the park, most people would either go left or right and end up admiring the attractions in Madagascar or New York. We would suggest you bypass these zones head towards the themed lands on the far side of the lake. This could be a great head-start for you to access other amazing rides such as Revenge of the Mummy, TRANSFORMERS and Battlestar Galactica: CYLON/HUMAN. For the kids, however, Treasure Hunters would be a great start as the majority of them would still be making their way through either Madagascar or New York. In order to take the shortcut, simply head down the path located in-between Mel's Drive-In and the lake. Continue your journey past the pier which will lead you to Sci-Fi City. TRANSFORMERS and Battlestar Galactica are just stones thrown away from here. It is also just a short walk to the Ancient Egypt zone.
There you go, you are no longer a stranger to the Universal Studios Singapore as you have now obtained the precious tips and precautions before visiting. May this trip be nothing else but a memorable and exciting one for you and your family to be shared. Enjoy the rest of spectacular places the Lion City has to offer.
More tourism service in Singapore

Make the most of your trip by checking out the Tour Packages offered by TheWalkingSingapore or you can use the best PMDs rental services at Joyscoot to get about Singapore. You can buy other Singapore attractions tickets here: Singapore Attractions Tickets
You may also like to read more about Singapore: 15 Best Places to Visit in Singapore 2020
Posted: 2019-12-10 05:46:01