7
25 Best Family Attractions in Singapore
Embrace the heritage and magnificent attractions the innovative city has to offer. However, touring with family requires proper and systematic planning ensuring the smoothness of your stay. Hence, here is the list of the 25 best family attractions providing you a glimpse of the Lion City.
1. Singapore Zoo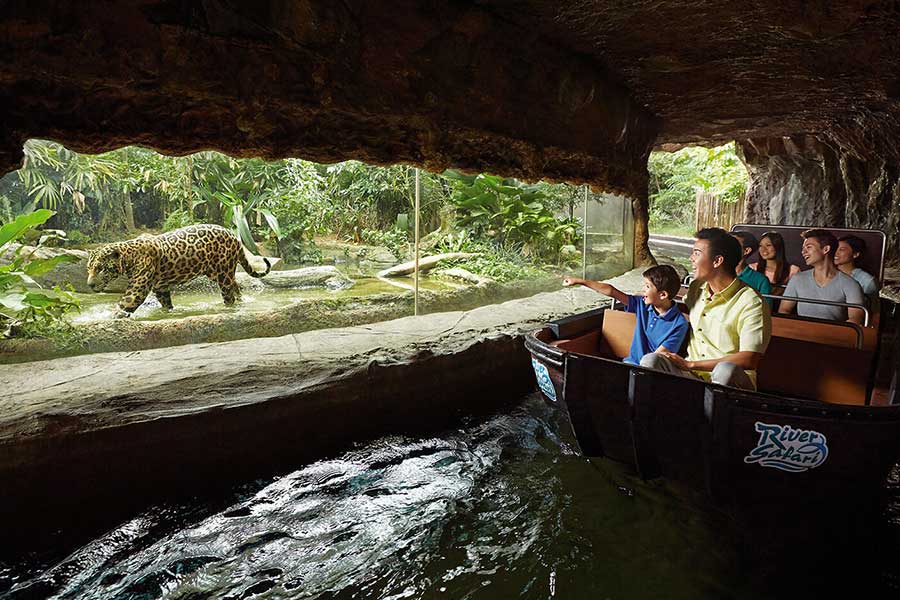 If you are looking for a perfect spot for family activity, Singapore Zoo is just the place for you. Do not miss the chance to experience wildlife up-close as over 2800 animals representing more than 300 species, including some endangered species such as Malayan tapirs, white tigers, and orangutans. Explore the park according to your own pace using the guided tour tram ride. If you are a nature lover, do check out the Night Safari and River Safari as well. A special treat for kids at The Rainforest Kidzworld which features a watery wonderland for kids of all ages.
Parents are equally welcomed to join their young ones to cherish and create joyful moments. It is also a wheel-chair-friendly spot, as some of the trams have special areas for wheelchairs. Hence, this is the perfect place for the whole family to have quality time together.
The Singapore Zoo operates from 8.30 am till 6 pm, you can still experience the Night Safari starting 7.30 pm to 12 am and the River Safari from 10 am till 7 pm. Save a day to fully explore the terrestrial wildlife in the Lion City.
2. Marine Life Park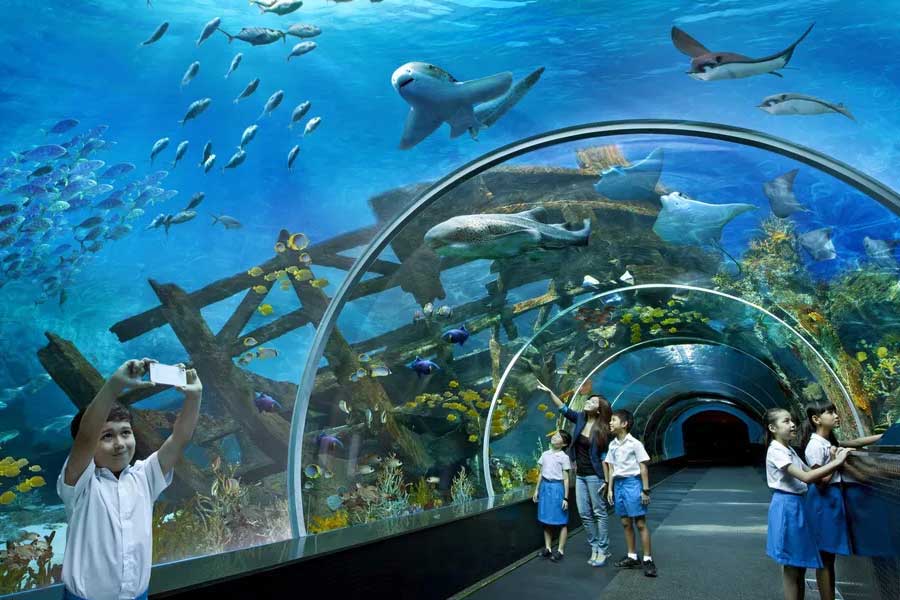 Discover the other ends of our world by diving into the ocean life of Marine Life Park. Located in the southern Singapore region, the 20-acre park is part of Resorts World Sentosa housing the wondrous S.E.A. Aquarium and Adventure Cove Waterpark. Dive into the humongous marine world at S.E.A. Aquarium which houses more than 100 000 ocean animals over 100 species.
Being the World's Largest Oceanarium and achieving Guinness World Record, this marine realm has the largest collection of Manta Rays and over 100 different species of Sharks. Immerse yourself in the submarine world to witness thousands of fish swimming by behind acrylic glass. Prepare to be wet and wild at the Adventure Cove Waterpark which is a perfect family activity park.
Create memorable moments by trying out the exciting slides, tube rides, regions first hydro-magnetic coaster, Adventure River, and wave pool. Immerse yourself in the aquatic park to snorkel over 20 000 colorful fishes and spectacular coral reefs.
3. Local Cuisine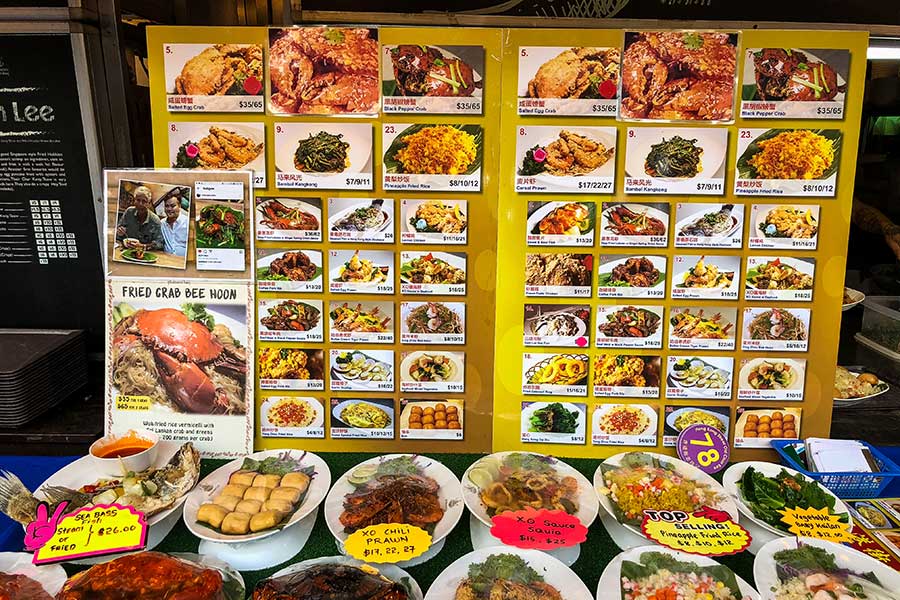 Singapore, well-known for its amazing architecture is also equally famous for its local cuisine. Having more than 100 hawker centers with over 600 stalls, it is quite impossible to visit them all during a short getaway vacation. Hence, here are some best places for you to dine with your family. The first on the list is the Lau Pa Sat hawker center located around the Raffles Quay area.
This place is well-known for its 'Satay' dish which covers up to 10 different stalls in a row. If you are looking for a spot by the Bay, indulge in the various local cuisine in MakanSutra. It is a hawker centre which is conveniently located near the theatres by Marina Bay providing a great view of the Marina Bay Sands Hotel, the Helix Bridge and the city centre.
This is a popular place among tourists and even locals. Near the disbanded Satay Club, there are a variety of stalls that has almost everything from rice, noodles, vegetables, meat, seafood dishes and not forgetting chill beers. It is a one-stop destination for foodies for sure. One can go to the water's edge for some stunning views especially when it is dark. It is relatively inexpensive and definitely provides a real treat!
4. Merlion Park and Sentosa Merlion Tower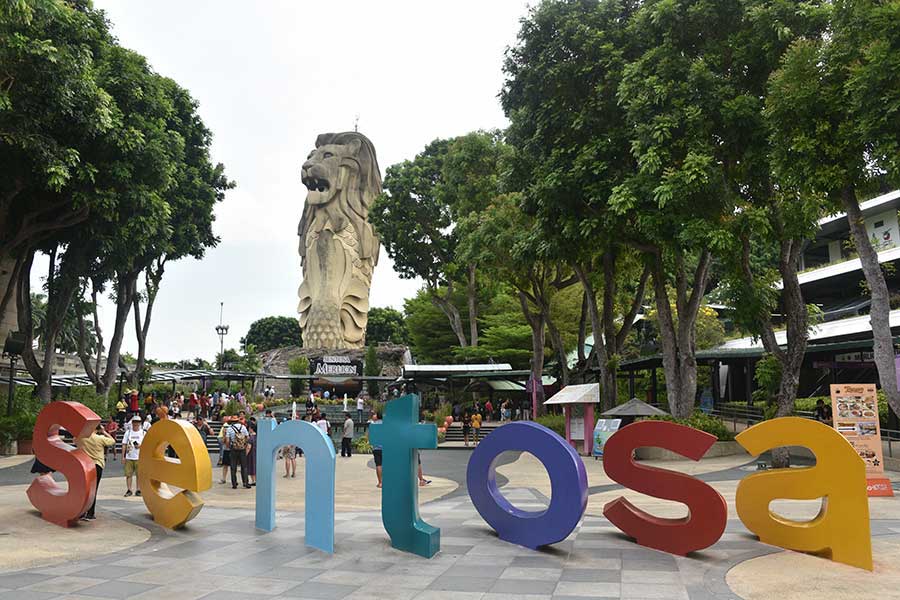 Merlion Park would definitely win hands down on the most visited places in Singapore list as it is the symbol of the nation. The Merlion is considered a mythical creature with the head of a lion and the body of a fish and spouting water from its mouth, this place is a major tourist attraction spot.
No charges will be applied for visiting this park and historical stories regarding this iconic statue. However, it is advisable to hop on the Secrets of the Bay or the CityScapes tour which covers other iconic places by the bay as well. The statue is located in front of Fullerton Hotel overlooking Marina Bay. Grab the opportunity to take another up close and personal picture with the Merlion at Sentosa Island.
This statue is 37-meter tall and is known as Sentosa Merlion Tower. The interesting part of this particular statue is that you could actually walk into the Merlion and take in the scenic view of the sea through the Merlion's mouth. You can also reach up to the crown for a 360 panoramic shot and view of the ocean. Learn about the legendary tales and stories of the mythical creature.
5. Gardens by the Bay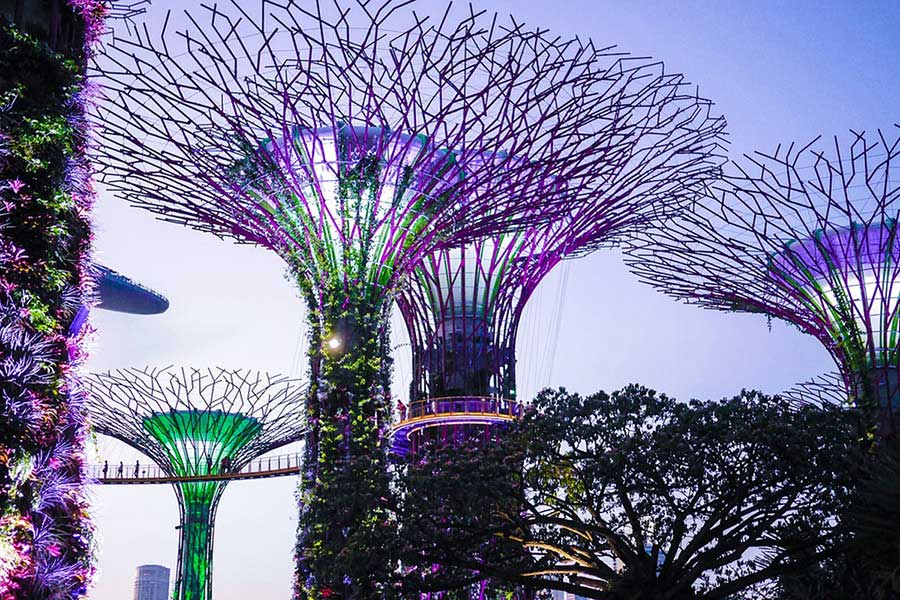 When was the last time you have been surrounded by flora and fauna all around you? Although our world has been always engaging in modern technology and lifestyle, it is essential to cherish and treasure the greenery around us. Gardens by the Bay is the perfect place for you to appreciate nature at its best. Situated next to the Marina Reservoir, visitors could use public transport such as buses and MRT to get there conveniently. This wonderland consists of 18 tree-shaped vertical gardens known as Supertrees along with plants all over the world.
Do check out on other attractions such as Supertree Grove, Heritage Gardens, Serene Gardens, Sun Pavilion, Bay East Garden, Dragonfly and Kingfisher Lakes, the art sculptures, and Far East Children's Garden. It is an ideal family spot as it does not only features the greenery all around the world but the intention of educating and stressing the importance of vegetation to us. Visitors need not rush upon visiting this garden is it open from 5 am till 2 am providing mind-blowing experiences both day and night.
6. Marina Bay Sands SkyPark Observation Deck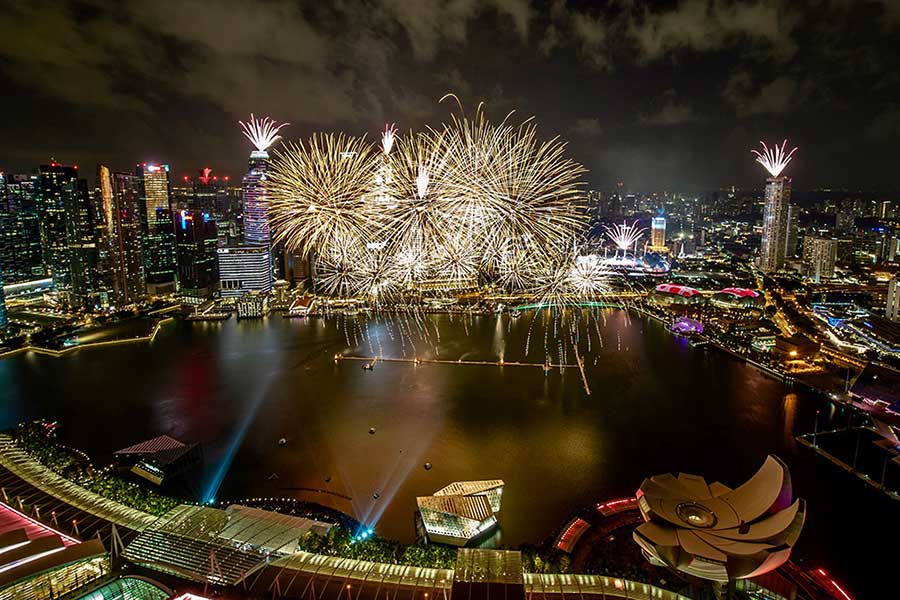 Witness the panoramic view of the historical landmarks of the Lion City. The Marina Bay Sands SkyPark Observation Deck offers a world-class cityscape view of the Singapore city skyline, the blue waters and the amazing night altogether. Another advantage is that it is one of the best vantage points in the city for those who have a passion for photography. Check out the Lion City at level 57 of the Sands Skypark! Also, do not miss out on the Spectra Light and Water Show at 8:00 pm and 9:30 pm which can be seen clearly from the Skypark!
7. Singapore River Cruise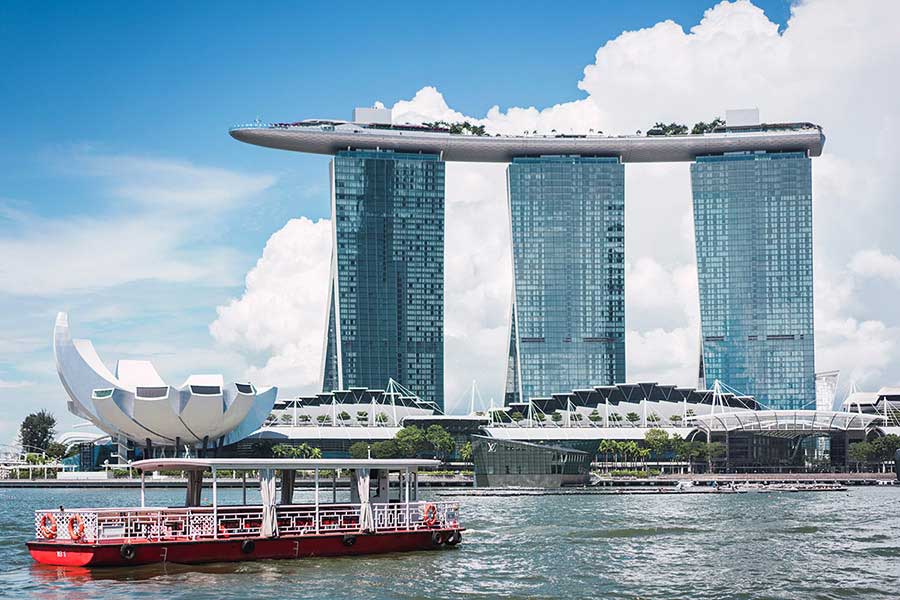 Hop on to Singapore River Cruise to escape the bustling city life. Sit back, relax and take in the beauty of the iconic landmarks of the Lion City. Begin sailing from the Fort Canning Jetty and journey past the Riverside Point, Parliament House, Asian Civilizations Museum, Merlion Park and more. Journey through time by listening to the onboard commentary and learn interesting facts about the growth of Singapore from a small trading port into a modern metropolis. Listen to onboard commentary and learn interesting facts about the city.
The best part of this tour is that you are allowed to get off at any of the 7 jetties at Clarke Quay, Marina Bay or Boat Quay to continue your exploration of Singapore. Seek out for several iconic status such as Sir Stamford Raffles along the Asian Civilisation Museum to get to know more about the history of Singapore. Walk along the Cavenagh Bridge to learn more about Singapore's past. Do not rush as you are entitled to explore the bay at your own pace.
8. Arts and Science Museum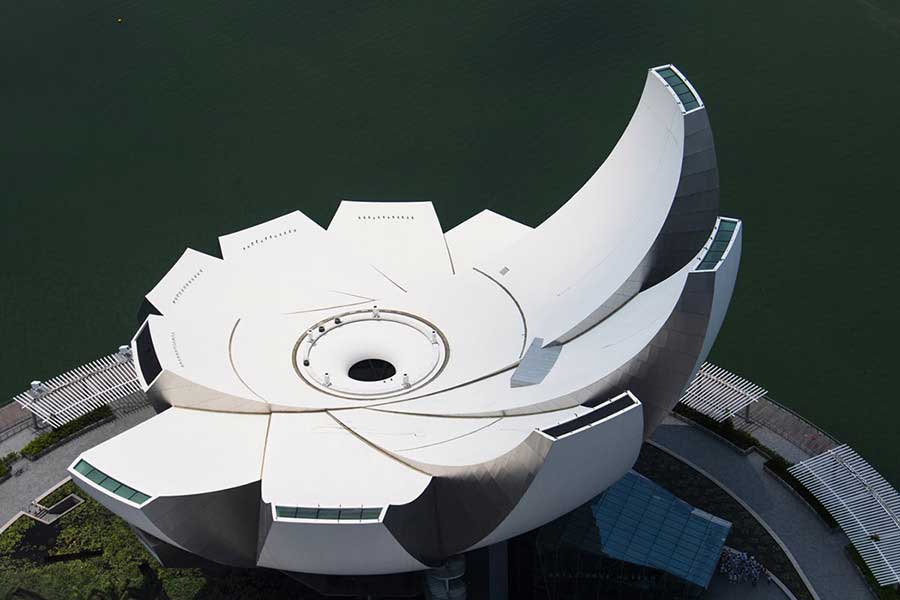 Arts and Science Museum is definitely a spot you should miss out in Singapore. Located within the integrated resort of Marina Bay Sands in the Downtown of the Central Area in Singapore, this Lotus Flower-like structure was launched by Prime Minister Lee Hsien Loong. It is also the world's first Arts and Science Museum consisting of 21 various gallery spaces shining a light on the worlds of art, culture, science, and technology. One will be exposed to colorful displays, diverse exhibits, and thought-provoking educational activities. Visit the Arts and Science Museum to explore the crossover between arts and technology in Singapore.
9. Skypark AJ Hackett Sentosa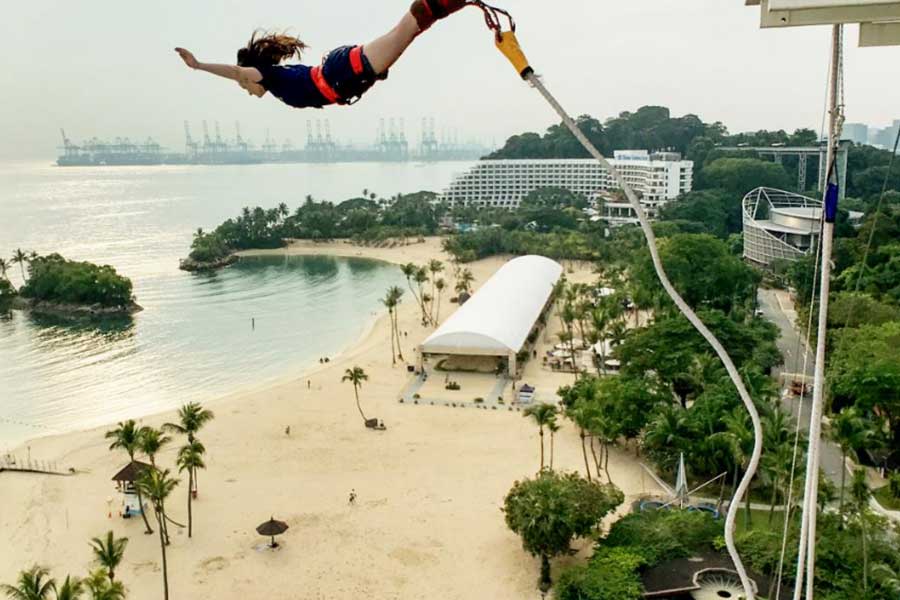 Seeking for an adventurous family activity? Visit one of Singapore's top attractions the Skypark AJ Hackett Sentosa which allows you to bungee jump standing at 50m above the ground. Located on Siloso Beach, Sentosa Island this spot has a 40-meter walkway Skybridge with see-through sections and a Paulaner Sunset Deck situated on it which has the best sunset views in Siloso. One has an option to do a Giant Swing with up to three people or challenge yourselves to a 47 meter Bungee Jump. The place is open from 10 am daily and they serve food and beverages. Do not miss out on the beautiful sunset view while you're there!
10. Singapore Butterfly Park & Insect Kingdom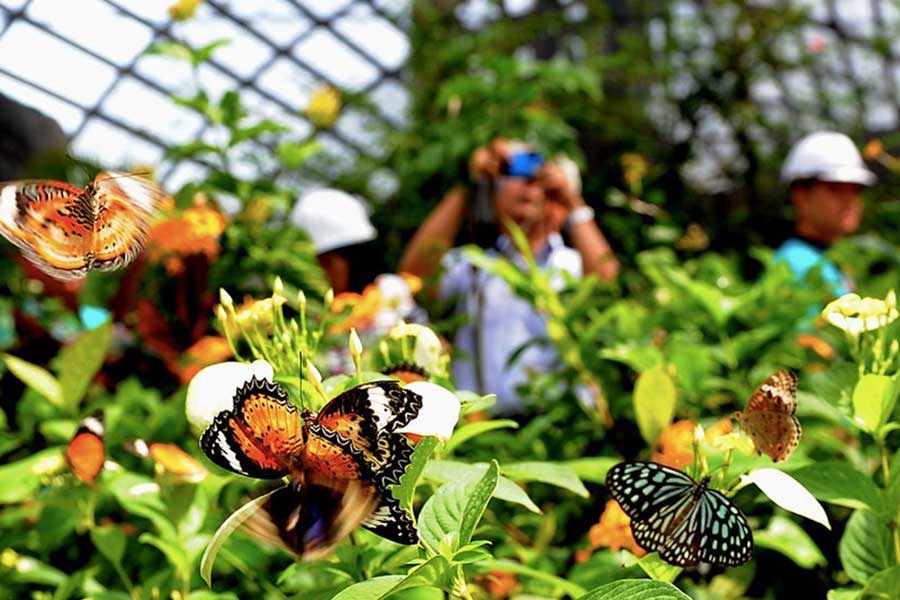 Treat your children by adding the Singapore Butterfly Park & Insect Kingdom into your itinerary which would definitely be worth your time and double the fun moments with your family. The park caters to various types of visitors from nature enthusiasts to children and home to insect lovers who would love to learn more or witness the knowledgeable facts of insects.
This park is home to thousands of different insect varieties. Enjoy nature at its best with the blooming flowers and rejuvenating waterfalls which refuge up to 3,000 of the rarest and endangered species of insects. The insectarium is designed as an outdoor conservatory that consists of approximately 1,500 live butterflies of more than 50 species. Walkthrough the butterfly park with the amazing and beautiful butterflies flying around you. It could definitely be a moment to cherish by the whole family.
11. Megazip Adventure Park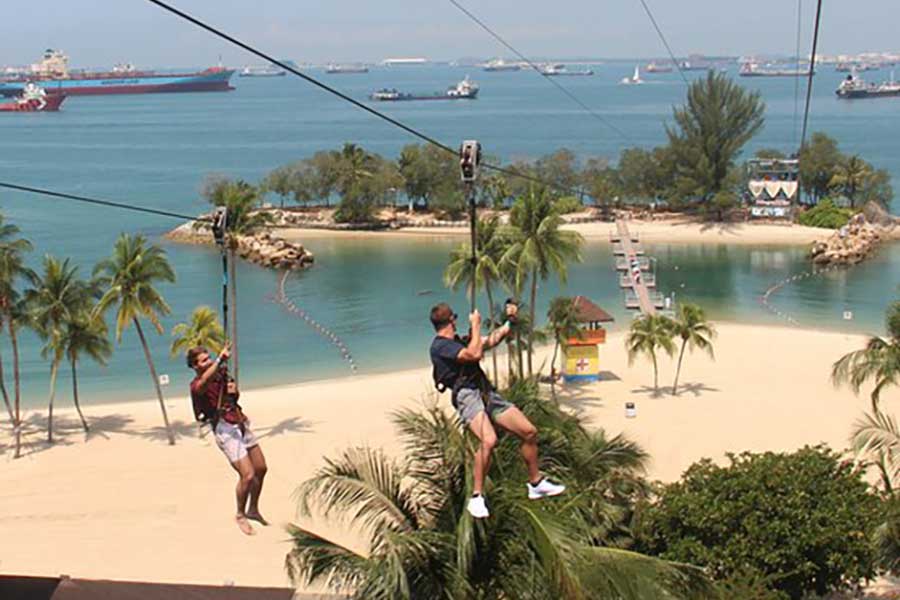 Sign up for a thrilling adventure at the Mega Adventure Park in Singapore. The 3 wire Zipline rides would definitely spike up your adrenaline as thrill-seekers get to fly like a bird at 75 meters high, 450 meters long and at a heart-pounding speed of 60kph overlooking the South China Sea Land on a beach at the bottom of a hill delivering you an unforgettable experience for sure. The Mega Adventure Park is located on the picturesque Sentosa Island which is host to Singapore's main attractions and operates the MegaZip that spans 450m where you fly at 60kph over the jungle and beaches of the Island! It's definitely an ultimate adventure for the entire family!
12. Dolphin Island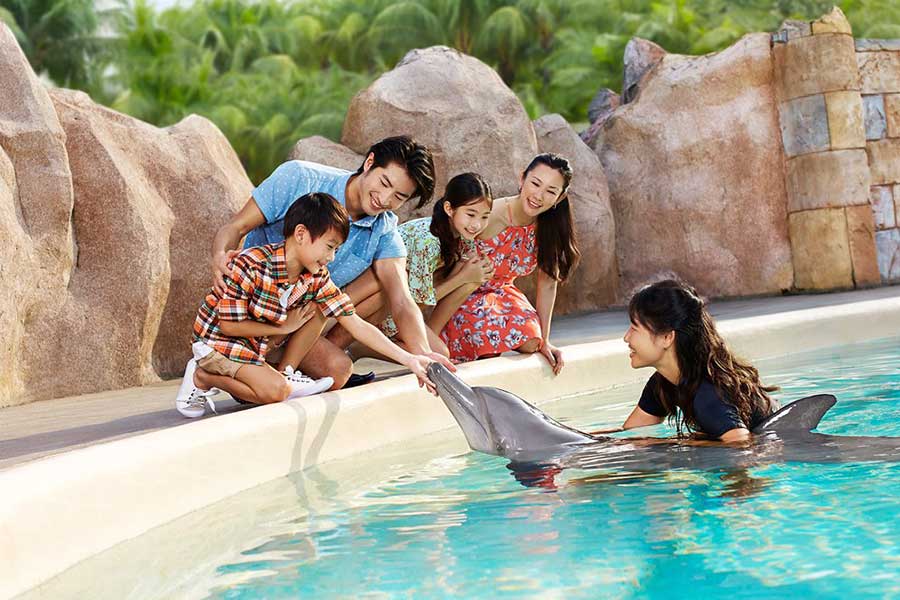 Here's another way you could definitely provide one of the best moments your children could have. Visit the Dolphin Island where you could literally swim with the dolphins. It is not only an exciting moment for children but even adults could tick one of your bucket list of the once in a blue moon opportunity. Get an up-close and personal with the most fascinating marine mammals of the oceans as you will be wading waist-deep in the water. Understand more and learn about the Indo-Pacific bottlenose dolphins anatomy through the research and veterinary care conducted in Dolphin Island.
13. Universal Studios Singapore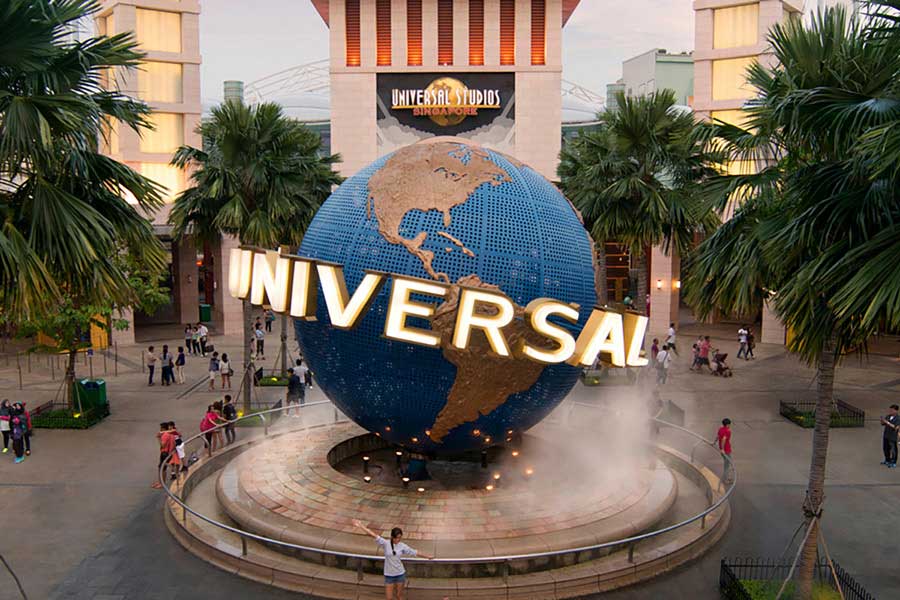 The most prominent attractions in Sentosa Island would definitely be the Universal Studios Singapore. Thrill-seekers and adrenaline junkies, this could be your paradise island. It is also a perfect spot for a family getaway as well as featuring tons of fun activities. Go beyond the screen to experience ataractic edge rides and shows based on your favorite blockbuster movies such as Transformers, Jurassic Park, Puss In Boots' and several others. Do not miss out on the Hollywood Dreams Parade, a special show which would bring back most of your beloved childhood characters to life. Plan out your trip by clicking on the 10 Tips for a Great Universal Studios Singapore Visit.
14. Skyline Luge Sentosa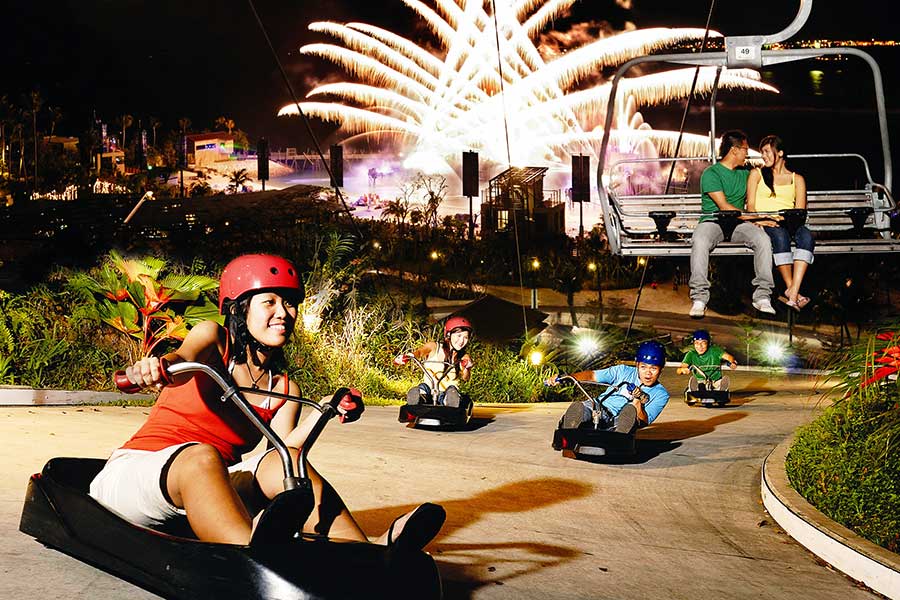 Hop on the luge and enjoy the Skyride at Sentosa where it is a one-stop destination for family activities as well. The luge is basically a unique wheeled gravity ride that enables riders full control over their descent in the tracks provided. If you have little children, then you may take a ride on the Skyride while enjoying the spectacular bird's eye view on a 4-seater chairlift. You would also be able to view the South China Sea and engrossed with the natural habitat of the island. Thrill-seekers could start exploring the Jungle trail or take up the challenge Dragon trail offers. Have fun with your loved ones with the cool breeze of the island.
15. iFly Singapore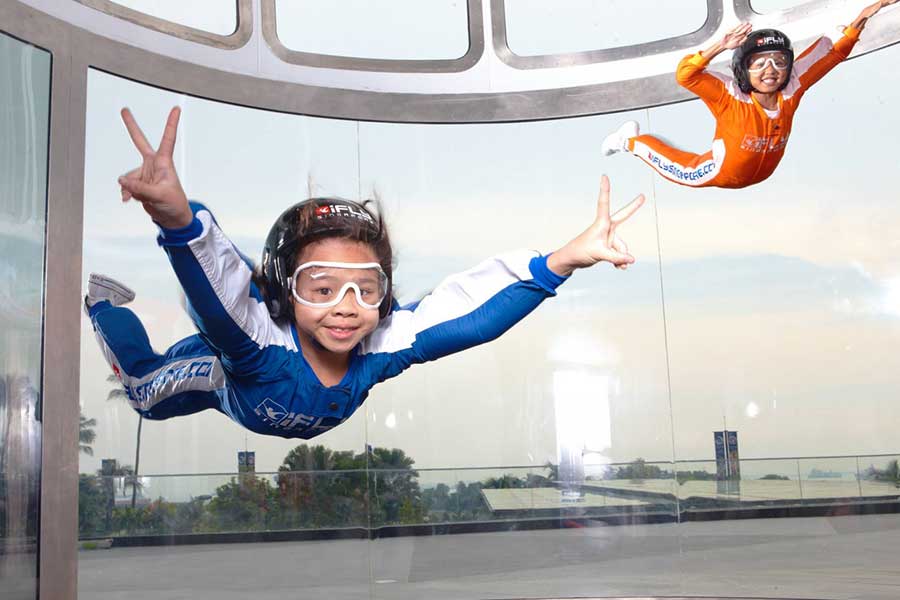 Ever heard of the song 'I Believe I Can Fly'? Well, iFly Singapore, passion made possible allows you to experience one of the best feelings known to mankind, which is flying. As most adrenaline activities such as skydiving which requires days sometimes weeks of training, here in iFly, you don't have to go through various trainings as the experts would guide you and help you experience what it is like to define gravity. This could push you one step closer to those who have 'skydiving' in their bucket list. The best part of the iFly is that even children 7 years and above are allowed to participate as well. This could definitely mark as one of the most memorable moments you can have with your family. iFly Singapore features cutting-edge, state-of-the-art technology that replicates a freefall from over 12,000 to 3,000 feet. Being one-fifth of the cost of outdoor skydiving experience, it definitely contains lower opportunity costs. Do not forget to claim your skydiving certificate along with memorable stills and video recording of your experience on your way out. However, the photos and video clip come at an additional cost but it would definitely be worth purchasing as you could keep it a remembrance throughout your life.
16. KidZania Singapore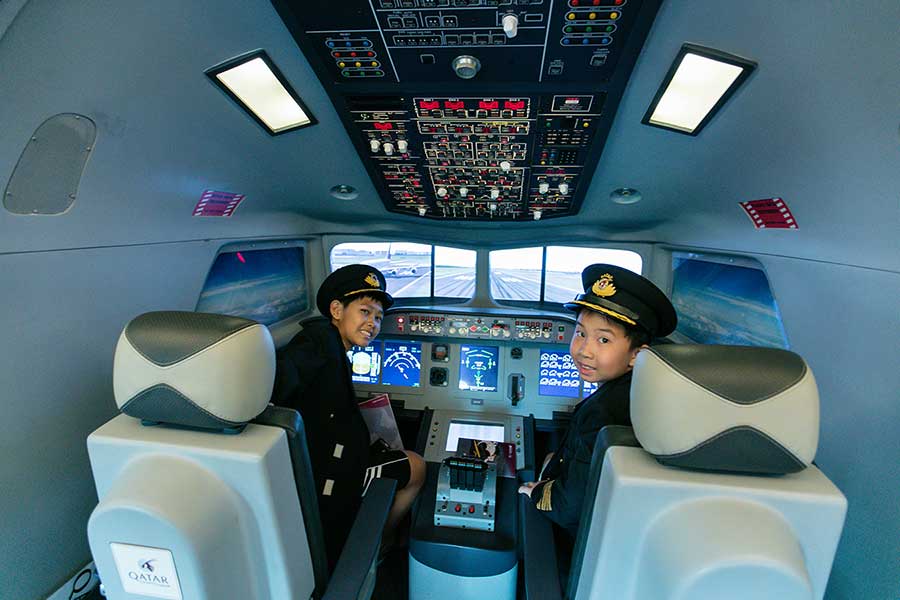 Sign up for an interactive experience filled with loads of joy and happiness with your family at the Kidzania Singapore. It is the perfect spot for children and parents to have quality time and a great learning platform too as they can participate in role-playing different jobs and also sign up for a host of educational activities. Kidzania does not solely focus on entertainment but also provides children a sneak-peek into adulthood in career-wise. Hence, it could be a platform where ambitions and goals will be triggered upon your child in determining their future. All interactive experience has been mold with utmost care making it a safe nurturing environment for the kids to learn, adapt and improvise on their character and team building. In a nutshell, it is a one-stop destination in experiencing and tasting everything the spectacular Lion City has to offer.
17. Madame Tussauds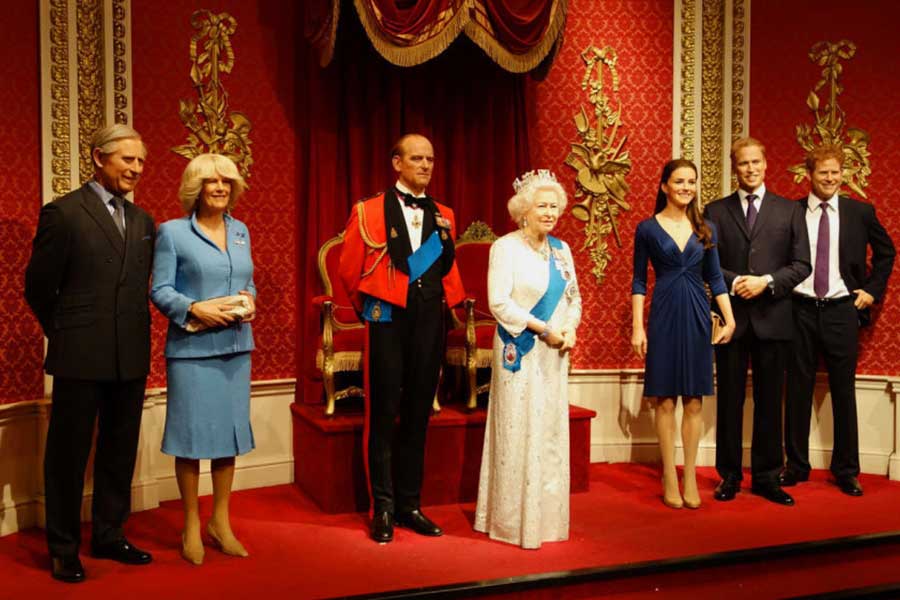 When was the last time you've been starstruck? Well, here's your chance to meet your favorite idol in life-sized wax figurines. Madame Tussauds, famous for its remarkable Wax Museum consisting of over 70 figures from the world's famous politicians, sports icons and celebrities. There's something for everyone despite the fact if you're into music, television series, sci-fi movies or sports. Don't miss the chance to witness the Marvel 4D show, Boat Ride 'Spirit of Singapore', IIFA Awards, and VR Racing features. Numerous live performances are held every week.
The operating hours starts from 10 am to 6 pm on weekdays and extended until 7.30 pm on weekends. Capture your once in a lifetime moment with some of the most prominent, iconic and legends such as Michael Jackson, Elvis Presley, Leonardo DiCaprio and so many others. If you're thinking of getting a souvenir while you're there, you could get a wax hand-done inside the museum.
18. Trick Eye Museum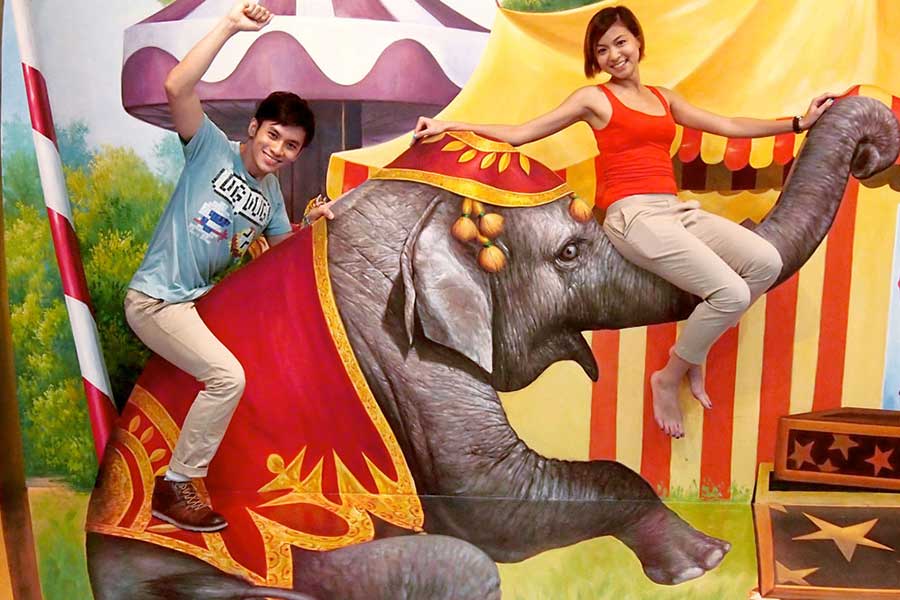 Prepare yourself to experience a mind-boggling time at the Trick Eye Museum on Sentosa Island. This 800-square-meter museum is segregated into six different themed zones. Get your cameras ready as you would come across various optical illusions. You are entitled to step into the paintings on the walls, ceilings, and ground to become part of the artwork.
Being Singapore's first interactive 4D museum, originating from Korea, the museum's main goal is to portray the cosmopolitan nature of Singapore by mixing the Eastern and Western influences into almost every exhibit. The cool part about this museum is that you are allowed to touch the artwork and interact with it as most museum restricts visitors from doing so. Hence, take cool, funny and mind-blowing pictures which would definitely ensure a fun-filled time and memories for everyone.
19. Singapore Cable Car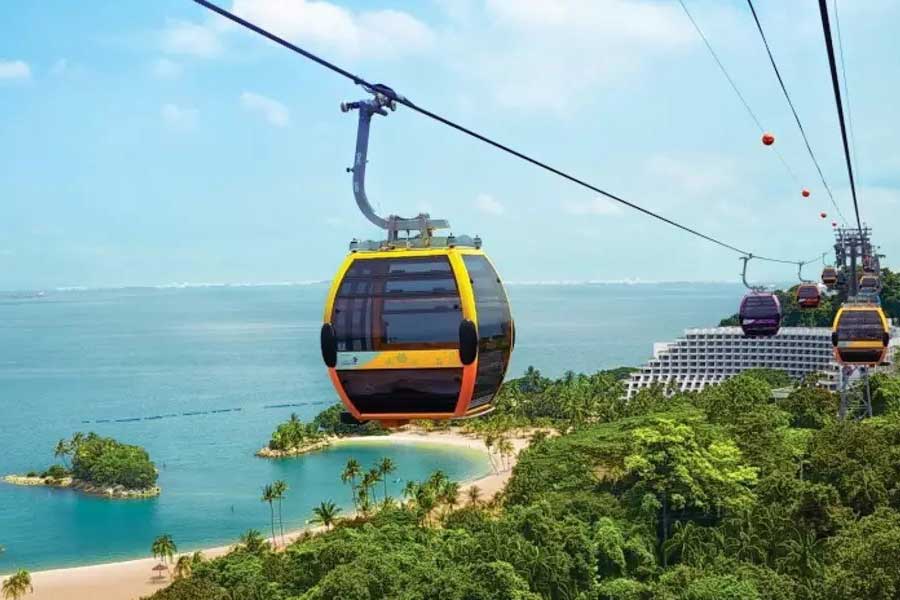 Get a view of the Lion City by hopping into the Singapore Cable Car. The trail connects Mount Faber on the main islands of Singapore to the resort island of Sentosa across the Keppel Harbour. Opened back in 1974, this cable car was the first aerial ropeway system in the world to span across the harbor. One would soar above the destinations through the sky experiencing the most scenic highway from Singapore hilltop destination, Faber Peak Singapore through a skyscraper and cross the harbor on the Mount Faber Line before landing in Sentosa Island. With the Sentosa Line, one can journey over the jungle, sand, and sea on the new Sentosa Line which will take you to dozens of attractions on Sentosa, also known as the State of Fun. Enjoy a thrilling ride!
20. AIRZONE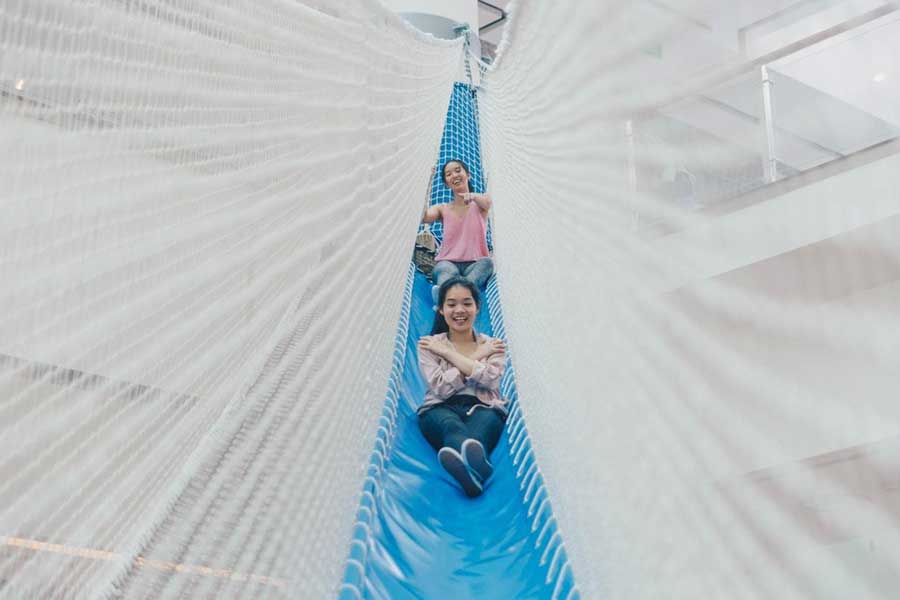 Ever wondered how zero-gravity would feel? Well, your far-fetched fantasy could come true. AIRZONE provides weightless feelings which would definitely be your children's favorite. Located at the City Square Mall, it is the world's first-ever indoor suspended net playground.
Allow your kid to experience numerous playgrounds such as the elevated ball pit and giant slides held up on nets in mid-air. Although the nets may look thin, they are sturdy enough to support at least two fully laden buses. In the aspect of safety, trained staff are stationed on every floor. Thus, let your child be and let them have the time of their lives bouncing along like an astronaut without worries. Here's a fun fact, this playground is not only for children but adults could join as well. Hence, unleash the child in you and tag along with your children to share a perfect bonding session.
21. The National Museum of Singapore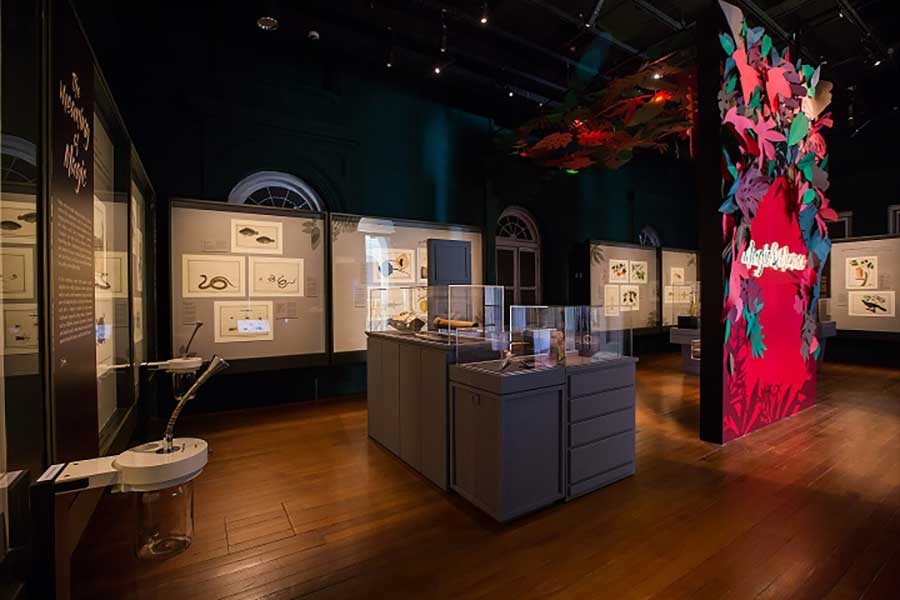 Get to know the mind-blowing history of Lion City at the nation's oldest museum, the National Museum of Singapore. Its history dates back to 1849 when it was opened on Stamford Road. Back then it was known as the Raffles Library and Museum. Nurture your children to learn histories and artifacts of visited countries which they could share with their friends in schools after their vacation.
Visiting face-to-face is way more efficient rather than reading and seeing monuments and history in books or online. The museum is famous for numerous exhibitions, festivals, film screenings, and thought-provoking performances and expositions. Visitors will learn about everything from daily life to the rapid development of this island nation over 700 years of Singapore's history. Despite its rich historical background, the National museum's galleries represent the latest cutting-edge techniques that may change the traditional perception of the museum experience.
22. Jurong Bird Park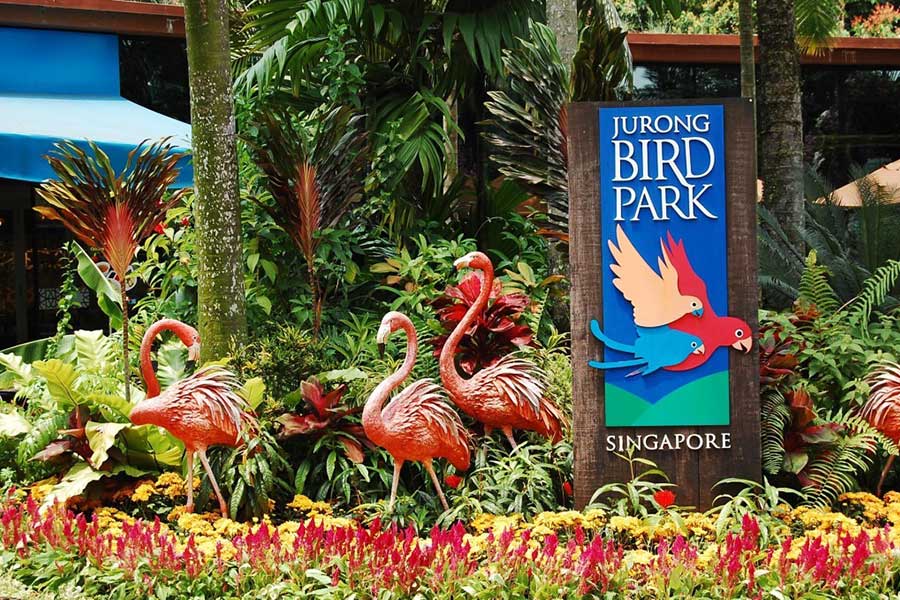 Do not miss the chance to explore Asia's largest bird park, Jurong Bird Park. You would definitely be impressed by the array of tropical birds as it is home to a collection of more than 5,000 birds across 400 species. Prepare to be dazzled by the magnificent birdlife from all over the world. Some of the iconic bird would be the flamingos. It is not only a sight-seeing spot but this park allows visitors to get a panoramic view of the surrounding landscape, hiking trails or electric trams.
Be a part of the team during the feeding sessions as you could get numerous photoshoot being up close and personal with the flamingos, ostriches, and pelicans. Also, look out for the entertaining antics at daily shows. Better safe than sorry, hence, it is advisable to bring an umbrella during the rainy season to ensure your comfort.
23. Sentosa Beaches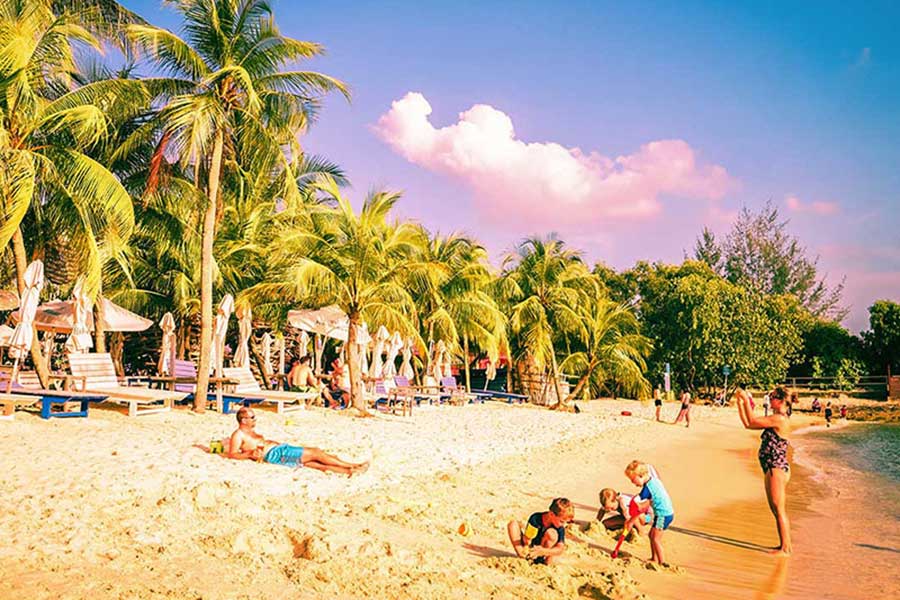 Singapore is well-known for its astonishing man-made developments which have evolved from a small jungle island intro a sprawling metropolis in just decades. Featuring some of the exceptional beaches, the pristine white sands in the island's coast are 100% real as they were imported from the neighboring country, Malaysia. Some of the iconic beaches are called Tanjong, Siloso and Palawan beach.
Plenty of fun activities can be done here from lounging into the numerous beach bars, splashing around warm seawater or just finding a perfect spot for tans and enjoying the beautiful sunset or sunrise. It is also a safe place for the kids to swim as the water level is pretty shallow. However, it is always advisable to be safe than sorry. Hence, do keep an eagle eye on your young ones and never leave them unattended.
24. Tiger Sky Tower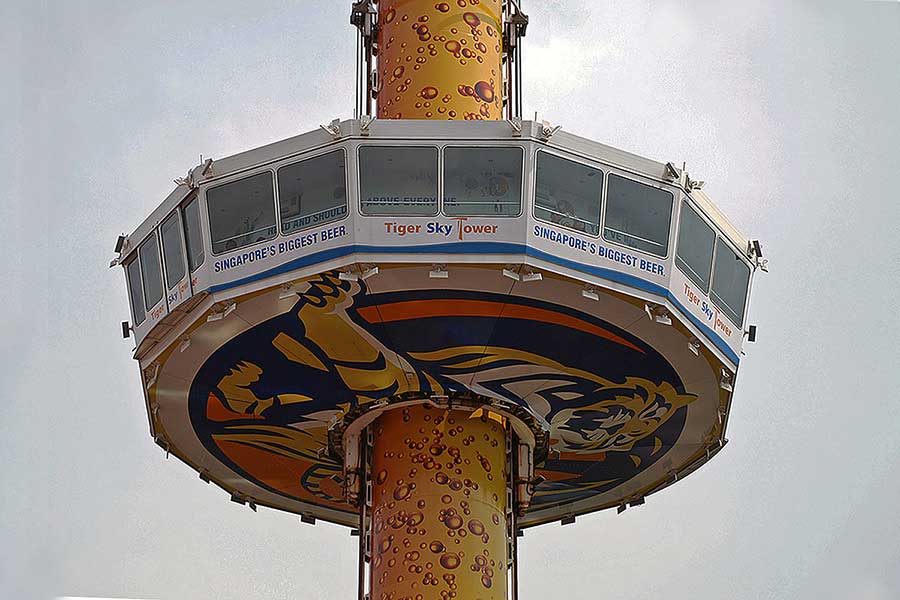 Reach up to the skies through the Tiger Sky Tower to witness the bird-eye view of the entire city of Singapore. It is also one of the city's most iconic structures and highest observation tower. Enjoy your journey as it takes you up on 131 meters above sea level in an air-conditioned cabin which would rotate giving you a 360° view of the city. Make sure to bring your gadgets and cameras as you would definitely be savoring every moment high up in the sky. You can also choose to ride up during the night as you would be delighted with the magical night lights of the metropolis.
25. Changi Airport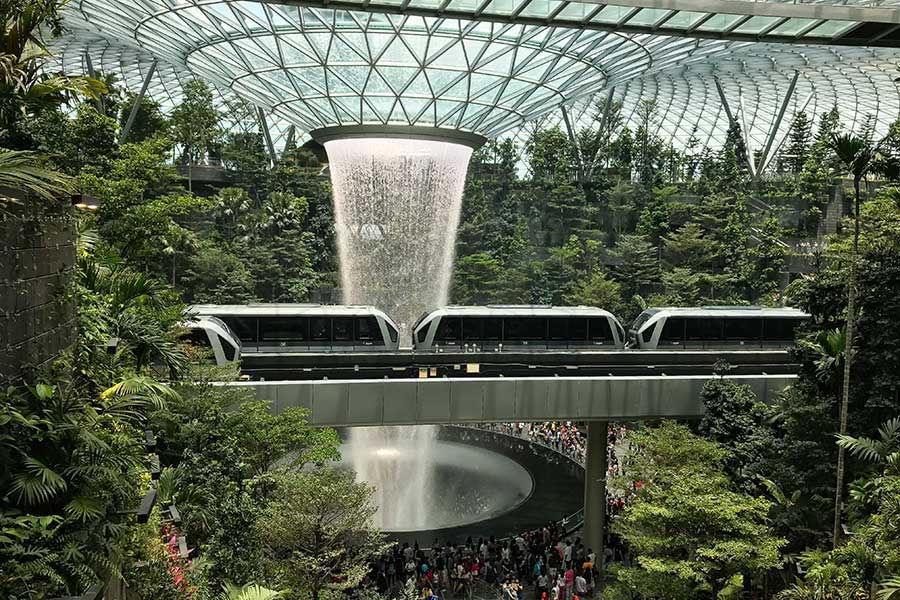 The one-stop station which enables you to witness various kinds of art, design, and architecture would be the Changi Airport. It is considered as the jack of all trades for its accessibility to almost everything in one place from shopping to fine dining, transportation, remarkable infrastructures, and amazing scenery, this place has it all.
It is a major civilian airport and one of the largest transportation hubs in Asia. This place also holds the World's Best Airport Award 10 times. Start your journey by taking a walk through Jewel's 128-meter walkway and enjoy its futuristic Changi experience studio. Get a dose of adrenaline in a canopy park or just relax while shopping and dining at 300 available outlets. It is also home to the largest indoor waterfall on earth called the Rain Vortex.
More tourism service in Singapore

You can plan out your interests by checking out the attraction tickets offered to save more. Also, make the most of your trip by checking out the Tour Packages offered by TheWalkingSingapore or use the best PMDs rental services at Joyscoot to get about Singapore.
You may also like to read more about Singapore: 12 Places to Visit in Marina Bay, 2020
Posted: 2020-01-20 06:15:35