3
15 Best Places to Visit in Singapore 2020
Singapore is undoubtedly one of the best cities to be visited as it is filled with numerous attractions, histories and remarkable skyscrapers. Hence, we have narrowed down to the 15 places you should not miss out on upon visiting the Lion City.
1. Universal Studios Singapore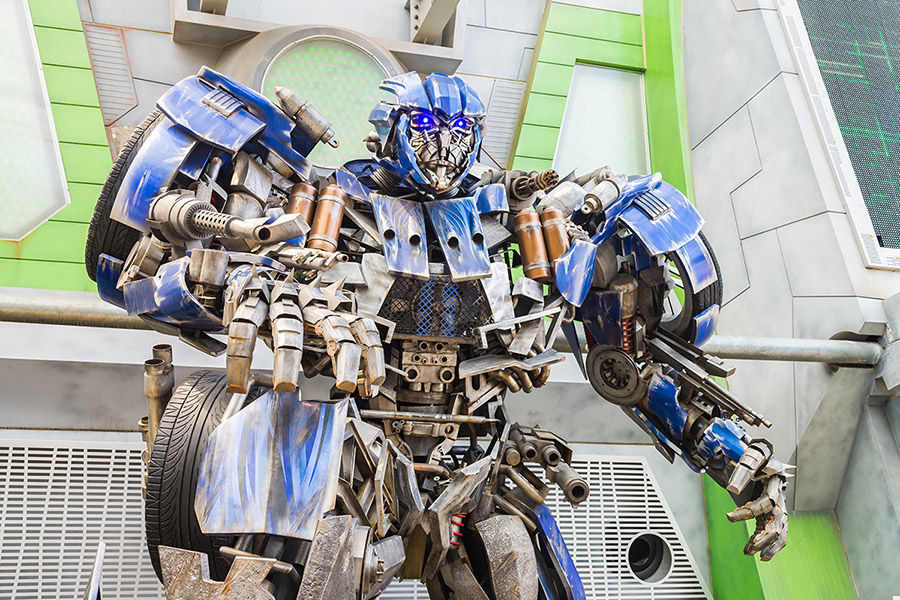 Nothing beats the experience, Universal Studios Singapore offers. It is situated at the Resorts World Sentosa and is made of 49 acres of land. It is advisable to allocate one whole day for this spot as it has so much to offer. One can experience the cutting edge rides, shows and attractions based on your favorite blockbuster films and television series including Battlestar Galactica: Human vs Cylon, Transformers The Ride, Jurassic Park Rapids Adventure, Sesame Street Spaghetti Space Chase and more. Come and immerse yourself with thrilling entertainment!
To know more, click on the 10 Tips for a great Universal Studios Singapore visit.
2. Singapore Zoo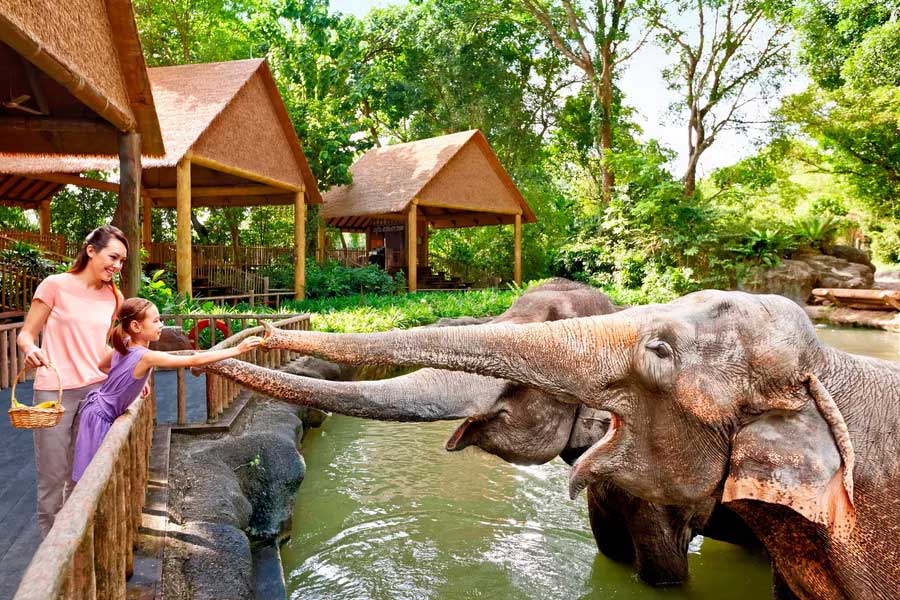 Connect with nature through The Singapore Zoo, a rainforest environment with an open concept. It was known as the Singapore Zoological Gardens, however, it is well known as the Mandai Zoo. The zoo was opened on 27 June 1973 and is operated by Wildlife Reserves Singapore, who also manages the neighboring Night Safari, River Safari, and Jurong Bird Park. Witness over 2800 animals from over 300 species of mammals, reptiles, and birds. Enjoy the naturalistic environment and incorporate magnificent viewing decks providing great experiences for nature lovers and zoo's inhabitants. Learn more about wildlife and capture exhilarating moments at this greenery habitat.
3. Gardens by the Bay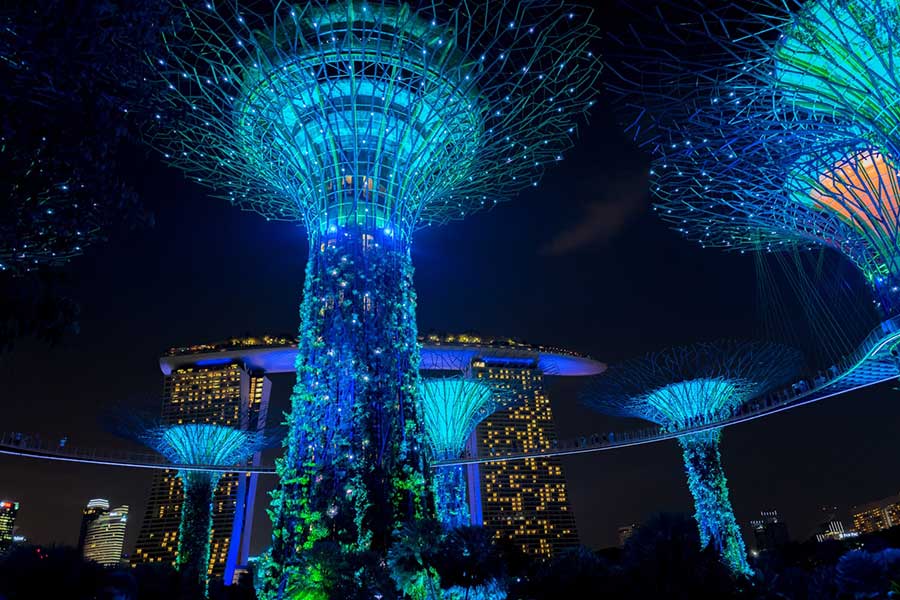 Gardens by the Bay is an amazing landscape of greenery which is ideal for having a great time with vibrant plant life. One can cruise through the Gardens by the Bay, Bay East Garden, Supertree Grove, the oversized seashell-shaped greenhouses with a recreated chilly mountain climate and an impressive skywalk over the gardens where one will find a range of iconic structures that resembles much of the future which is designed to perform environmentally sustainable functions. Moving forward, one can head to the Cloud Forest Dome to view the spectacular indoor waterfall and learn more about biodiversity. Do not miss out on the Musical Rhapsody is a signature light and sound show of the Gardens by the Bay. Its enchantment of the amazing music and lights will captivate you. Come and enjoy the popular tunes of musical classics. Parallel to that, one gets to enjoy themselves with the illuminated breathtaking skyline. Come and immerse yourself!
4. Singapore Flyer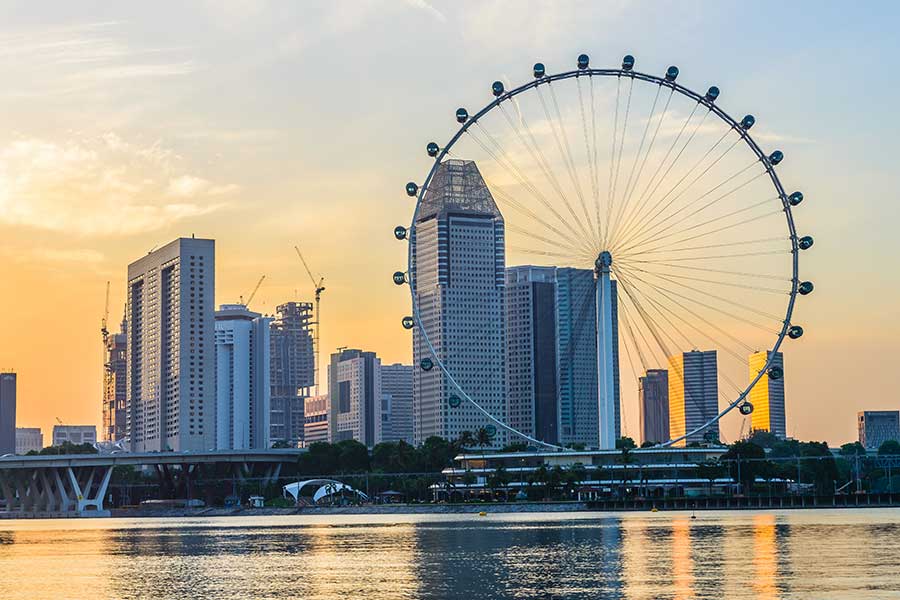 Unwind and relax upon visiting Asia's tallest Ferris wheel located in Raffles Avenue. Admire the panoramic view from 165 meters above ground to spot all the famous landmarks and tourist hotspots. Engage calm atmosphere during the holidays to keep a clear head and take in what nature has to offer. Charge your gadgets in advance as you will be savoring life intensely by capturing pictures non-stop while enjoying the breathtaking view Some of the popular landmarks to look out for from the top would be Raffles Place, Singapore River, Merlion Park, Arts, and Science Museum and many more.
5. S.E.A. Aquarium Sentosa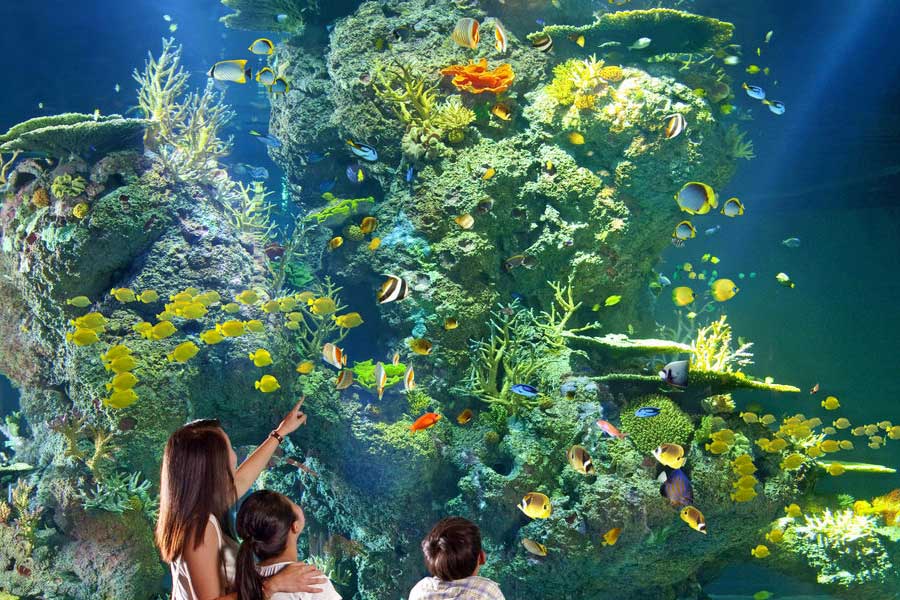 Prepare to be astonished by the ocean life Marine Life Park. Located in the southern Singapore region, the 20-acre park is part of Resorts World Sentosa housing the wondrous S.E.A. Aquarium and Adventure Cove Waterpark. Dive into the humongous marine world at S.E.A. Aquarium which houses more than 100 000 ocean animals over 100 species. Being the World's Largest Oceanarium and achieving Guinness World Record, this marine realm has the largest collection of Manta Rays and over 100 different species of Sharks. Immerse yourself in the submarine world to witness thousands of fish swimming by behind acrylic glass. Prepare to be wet and wild at the Adventure Cove Waterpark which is a perfect family activity park. Create memorable moments by trying out the exciting slides, tube rides, regions first hydro-magnetic coaster, Adventure River, and wave pool. Immerse yourself in the aquatic park to snorkel over 20 000 colorful fishes and spectacular coral reefs.
6. Sentosa Cable Car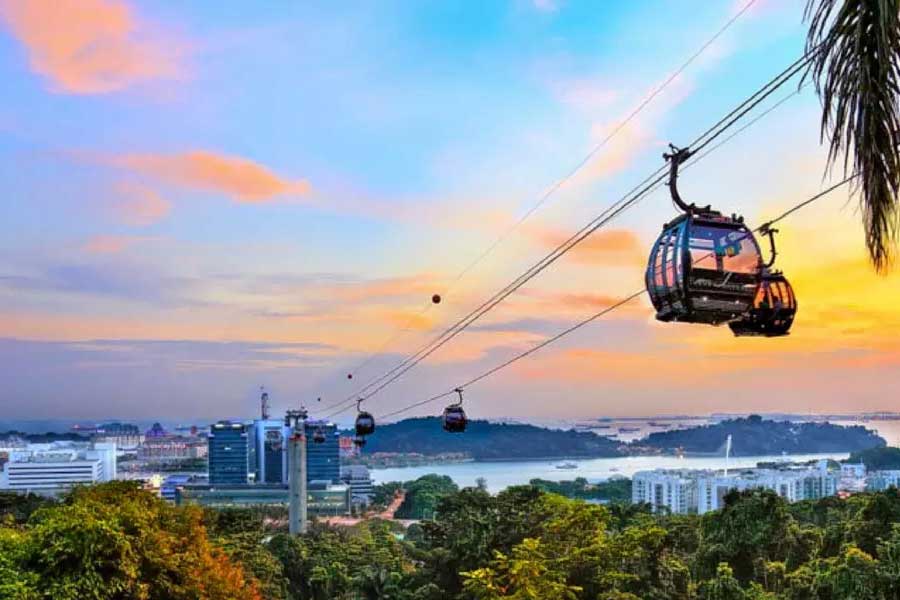 The Singapore Cable Car connects Mount Faber on the main islands of Singapore to the resort island of Sentosa across the Keppel Harbour. It was opened on 15 February 1974 which provided the first aerial ropeway system in the world to span across the harbor. One would soar above the destinations through the sky experiencing the most scenic highway from Singapore hilltop destination, Faber Peak Singapore through a skyscraper and cross the harbor on the Mount Faber Line before landing in Sentosa Island. With the Sentosa Line, one can journey over the jungle, sand and sea on the new Sentosa Line which will take you to dozens of attractions on Sentosa, also known as the State of Fun. Enjoy a thrilling ride!
7. Marina Bay Sands SkyPark Observation Deck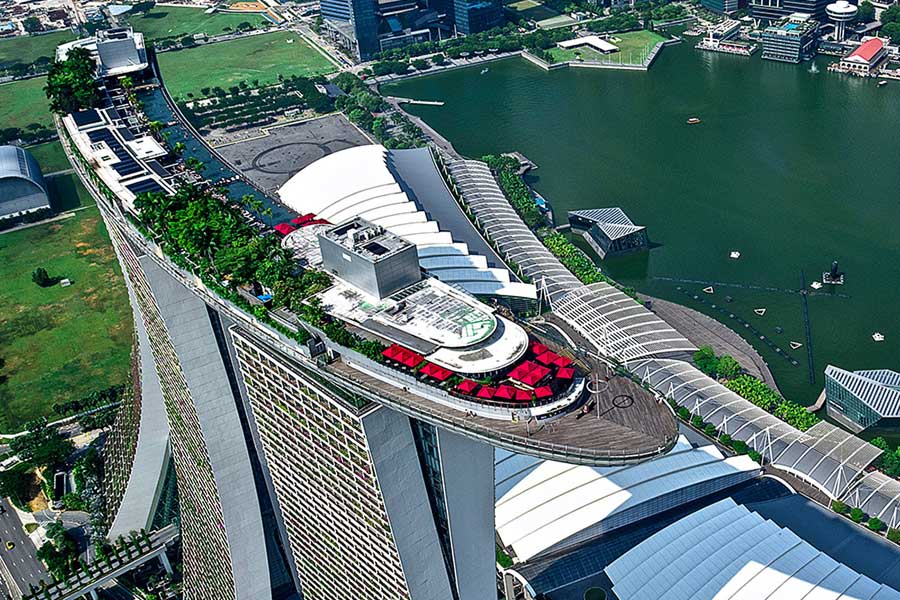 The Marina Bay Sands SkyPark Observation Deck offers a world-class cityscape view of the Singapore city skyline, the blue waters and the amazing night altogether. Another advantage is that it is one of the best vantage points in the city for those who have a passion for photography. Check out the Lion City at level 57 of the Sands Skypark! Also, do not miss out on the Spectra Light and Water Show at 8:00 pm and 9:30 pm which can be seen clearly from the Skypark!
8. Red Dot Design Museum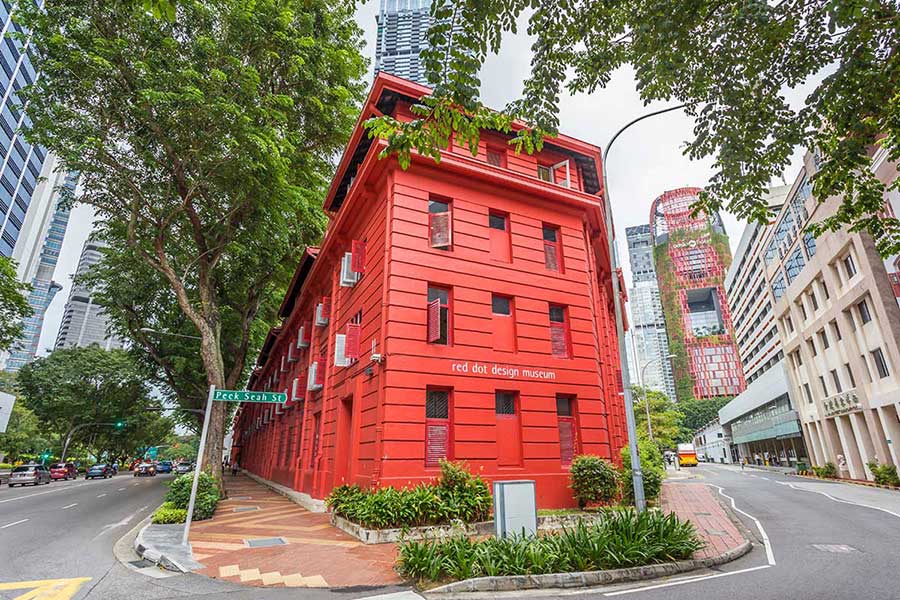 This museum is a must-visit place especially if you are a dilettante as it possesses over 200 mindblowing designs and won the Red Dot Design Award, which is one of the largest design awards in the world. Do visit their design shops where you can find a huge collection of design objects. Do not miss the chance to indulge in the local desserts sold at the museum cafe. Located at the heart of Singapore's most spectacular district, Marina Bay, the museum lies alongside the Marina Bay Waterfront Promenade which makes it a 'two birds with one stone' place to visit. The best way to roam around this area would be on foot or bicycle. You can find award-winning design works in the museum's Permanent Collection and throughout the museum. Other iconic places such as Marina Bay Sands, Merlion Park, Gardens by the Bay and Clifford Pier are just a stone's throw away.
9. Mega Adventure Park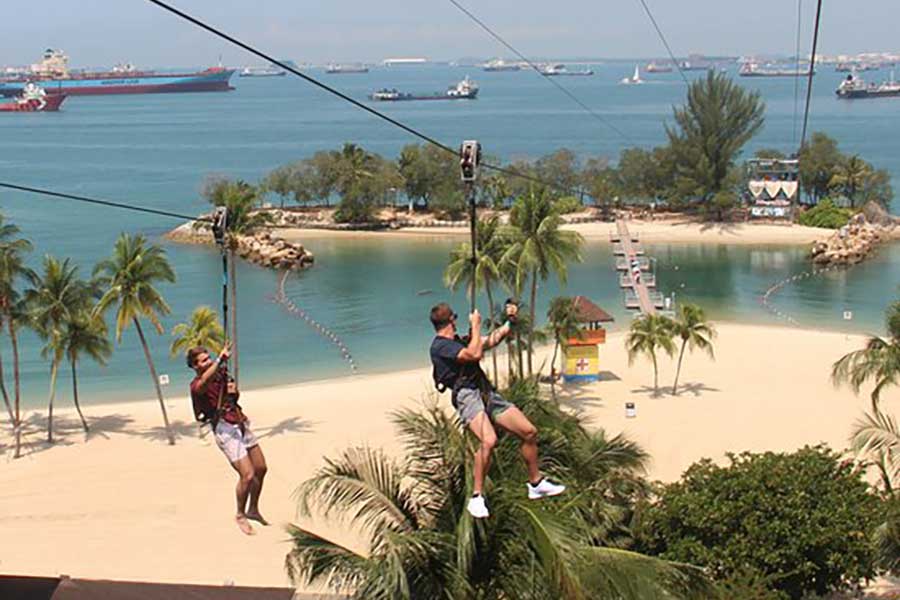 The 3 wire Zipline rides at the Mega Adventure Park in Singapore are thrilling as one can experience the adrenaline rush of exhilarating rides as thrill-seekers get to fly like a bird at 75 meters high, 450 meters long and at a heart-pounding speed of 60kph overlooking the South China Sea Land on a beach at the bottom of a hill. The Mega Adventure Park is located on the picturesque Sentosa Island which is host to Singapore's main attractions and operates the MegaZip that spans 450m where you fly at 60kph over the jungle and beaches of the Island! It's definitely an ultimate adventure for the entire family!
10. AJ Hackett Sentosa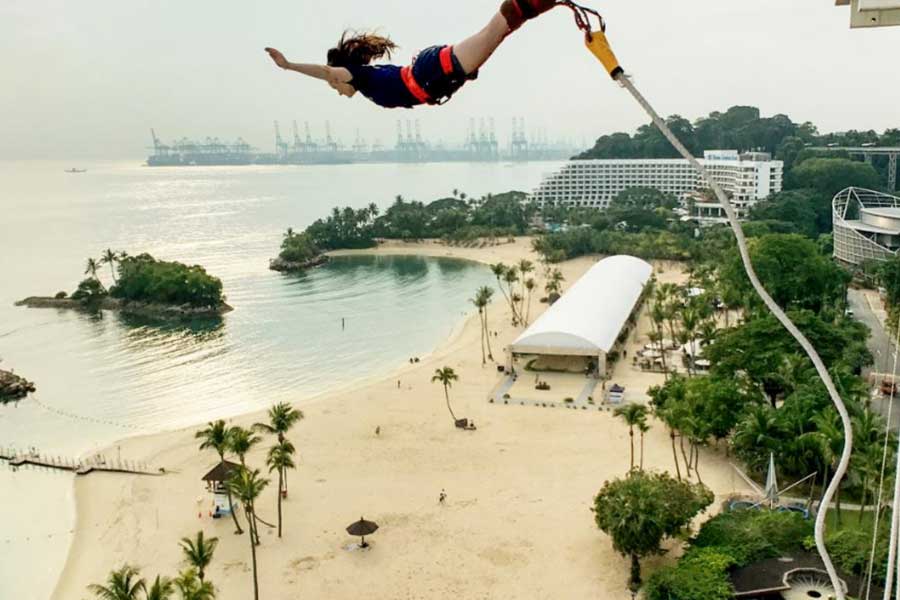 One of Singapore's top attractions is the AJ Hackett Sentosa bungee jump standing at 50m above the ground and is located on Siloso Beach, Sentosa Island. They have a 40-meter walkway Skybridge with see-through sections and a Paulaner Sunset Deck situated on it which has the best sunset views in Siloso. One has an option to do a Giant Swing with up to three people or challenge yourselves to a 47 meter Bungee Jump. The place is open from 10 am daily and they serve food and beverages. Enjoy the beautiful sunset view at the same time!
11. Changi Airport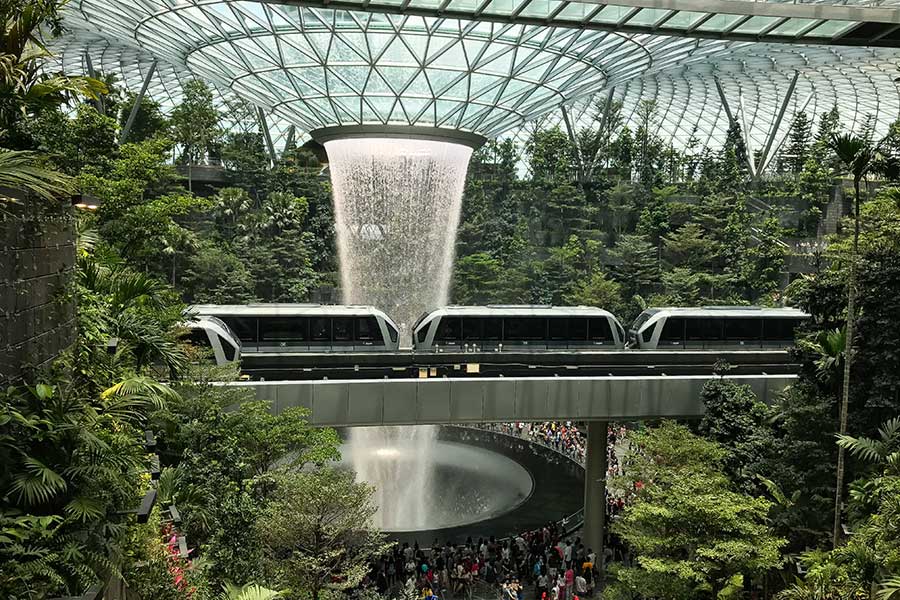 The one-stop station which enables you to witness various kinds of art, design, and architecture would be the Changi Airport. It is considered as the jack of all trades for its accessibility to almost everything in one place from shopping to fine dining, transportation, remarkable infrastructures, and amazing scenery, this place has it all. It is a major civilian airport and one of the largest transportation hubs in Asia. This place also holds the World's Best Airport Award 10 times. Start your journey by taking a walk through Jewel's 128-meter walkway and enjoy its futuristic Changi experience studio. Get a dose of adrenaline in a canopy park or just relax while shopping and dining at 300 available outlets. It is also home to the largest indoor waterfall on earth called the Rain Vortex.
12. Merlion Park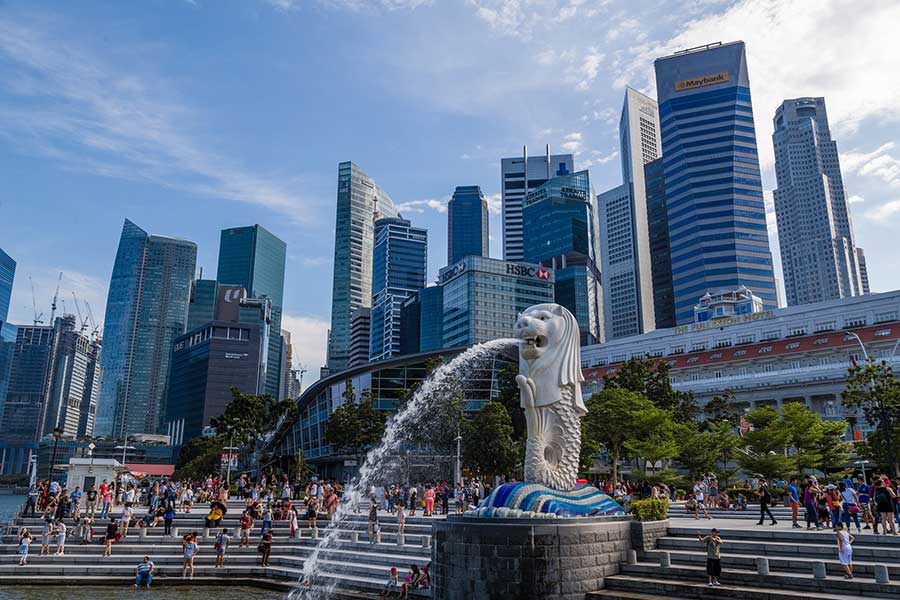 Merlion Park would definitely win hands down on the most visited places in Singapore list as it is the symbol of the nation. The Merlion is considered a mythical creature with the head of a lion and the body of a fish and spouting water from its mouth, this place is a major tourist attraction spot. No charges will be applied for visiting this park and historical stories regarding this iconic statue. It is the most suitable place to catch a glimpse of an amazing view Singapore has to offer. The statue is located in front of Fullerton Hotel overlooking Marina Bay. There is also a smaller Merlion statue known as the 'Merlion cub' at the park weighing three tonnes and standing seven meters tall.
13. The Southern Ridges
Enjoy the serenity offered by Southern Ridges. Connected to the Mount Faber Park, this place comprises 10km of green, open spaces. Other places such as Telok Blangah Hill Park, HortPark, Labrador Nature Reserve and Kent Ridge Park are different parts of the Southern Ridges. This is an awesome place for walking enthusiasts, history buffs and nature lovers. This could be a perfect place for an adventurous family outing plan as well. Standing 36 meters above Henderson Road, it is the highest pedestrian bridge located in Singapore. The stunning flora and fauna will definitely catch your eye while you enjoy watching birds in their natural habitat. The scenery is off the charts as it absolutely a memorable place for every visitor; a perfect getaway from the busy and bustle of city life.
14. Arts and Science Museum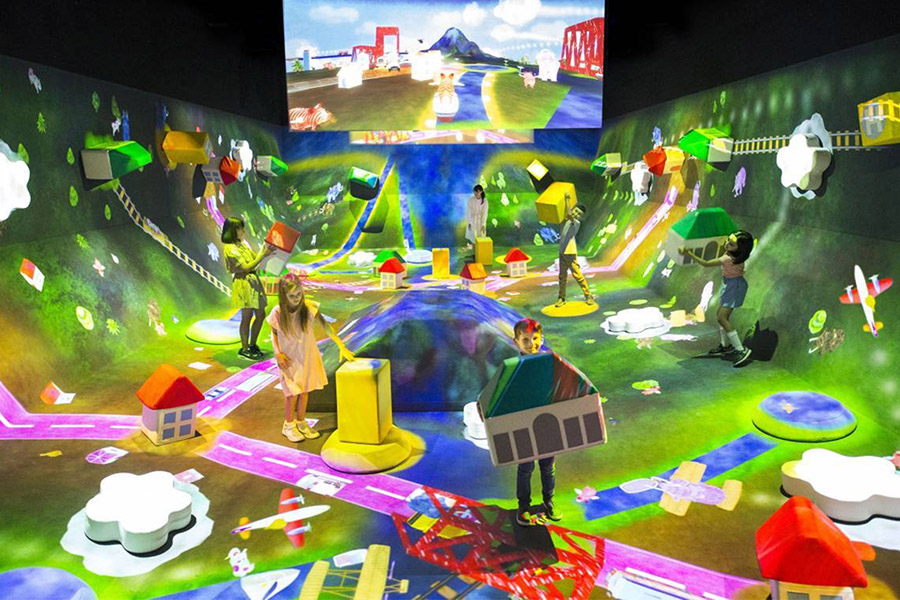 Singapore's Arts and Science Museum is located within the integrated resort of Marina Bay Sands in the Downtown of the Central Area in Singapore. Singapore's current Prime Minister Lee Hsien Loong opened the world's first Arts and Science Museum. It has 21 various gallery spaces shining a light on the worlds of art, culture, science, and technology. One will be exposed to colorful displays, diverse exhibits, and thought-provoking educational activities. Visit the Arts and Science Museum to explore the crossover between arts and technology in Singapore.
15. URA City Gallery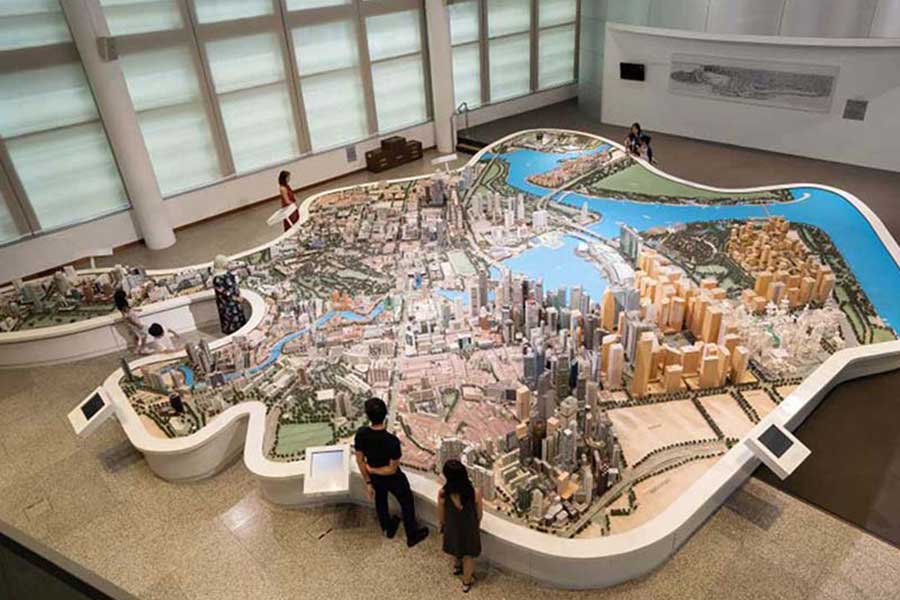 The Urban Redevelopment Authority's City Gallery exhibits Singapore's drastic change over the past 5 decades. Witness the Lion City's development story through 40 interactive exhibits which showcase the details in planning challenges and the idealistic measures which were taken to solve them. Located at Maxwell Road, this gallery operates from Monday or Saturdays starting from 9 am to 5 pm. It is however closed on Sundays and public holidays. If your group is more than 10 people for a self-discovery visit, write into their official page to book a slot two weeks prior to your visit. Besides that, the Gallery offers FREE guided tours for the local community that starts from 11 am to 12.30 pm on Tuesdays, Thursdays and the first and third Saturday each month. However, Mandarin tours are only available on the third Saturday of the month.
More tourism service in Singapore
In a nutshell, Singapore is one of the best tourist destinations as it is also one of the safest places to be, due to its low crime rate. Hence, come along and experience the richness of this paradise island as it has so much to offer. If these attractions are not enough, you can check out more attractions in Singapore. Also, you can make the most of your trip by checking out the Tour Packages offered by TheWalkingSingapore or use the best PMDs rental services at Joyscoot to get about Singapore.
You may also like to read more about Singapore: 15 Best Attractions in Sentosa Island Singapore for a Fun Day Out
Posted: 2019-12-18 08:45:00