11
20 Extreme Adventures for Thrill Seekers in Singapore, 2020
Brace yourself for some of the most adventurous and extreme attractions Singapore has to offer. Variating from skydiving to midnight safaris, bungee jumping to indoor surfing, there's a long list of extreme adventurous activities to be done. Here are some perfect spots in Singapore.
1. SkyPark AJ Hackett Sentosa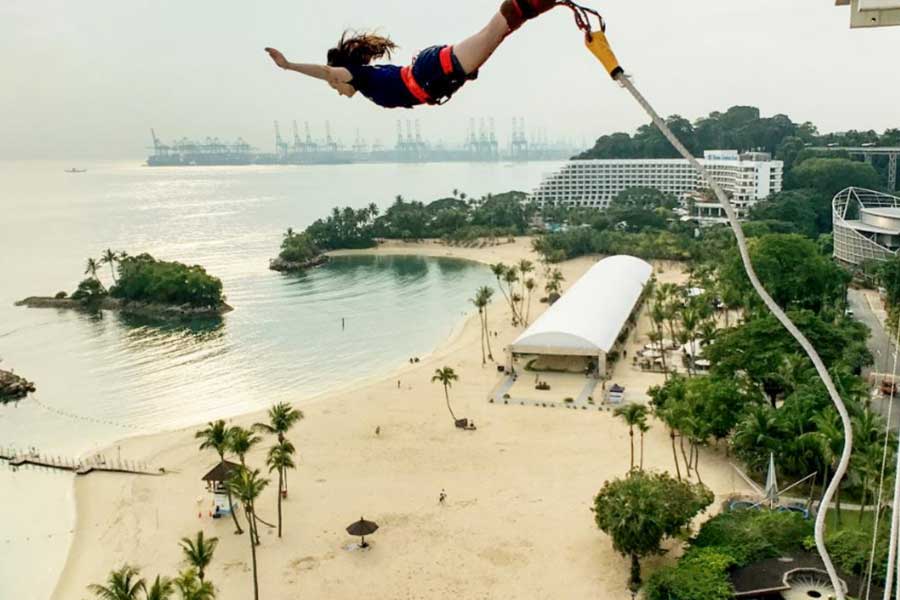 Overcome your fear of heights by standing at 50m from the ground and jumping down with the Bungee Jump service at the SkyPark AJ Hackett Sentosa. Hop onto the Giant Swing which could take a maximum of 3 people to keep your adrenaline pumping. Don't miss out on the amazing sunset views from Siloso Beach, Sentosa Island. Capture the beautiful moments by walking on the see-through 40m walkway, Skybridge towards Paulaner Sunset Deck. It is an ideal place to dine with the breathtaking bird's eye view of the ocean and heaven for thrill-seekers.
2. Mega Adventure Park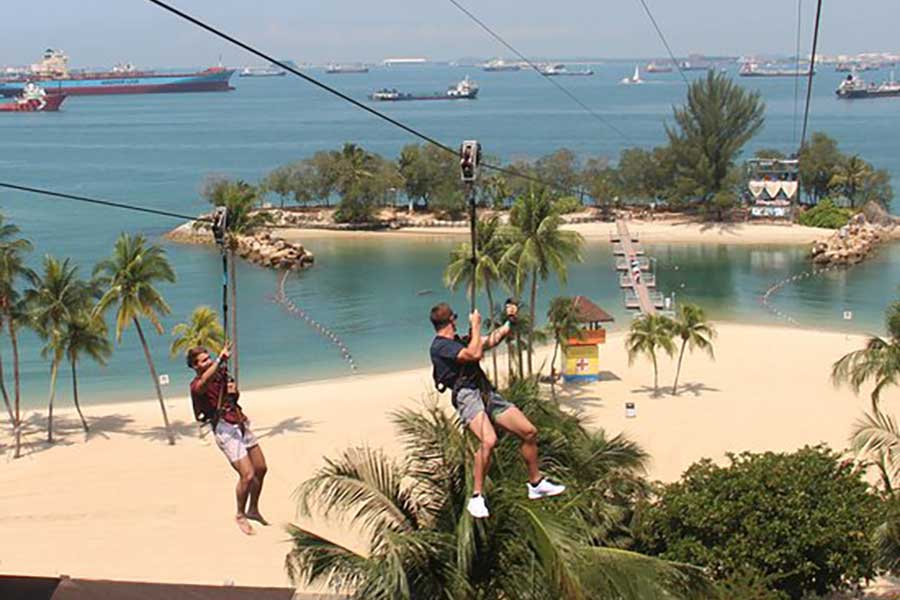 Feel the air and fly up high using the Zipline rides at the Mega Adventure Park. The 3 wire Zipline rides are as thrilling and favorites among the adrenaline junkies who are seeking for exhilarating rides. Overlook the South China Sea Land by reaching 75 meters high, 450 meters long and at a heart-pounding speed of 60kph by hopping on these extreme rides. Pump up your adrenaline by experiencing these once in a blue moon opportunity together with your loved ones.
3. Skyline Luge Sentosa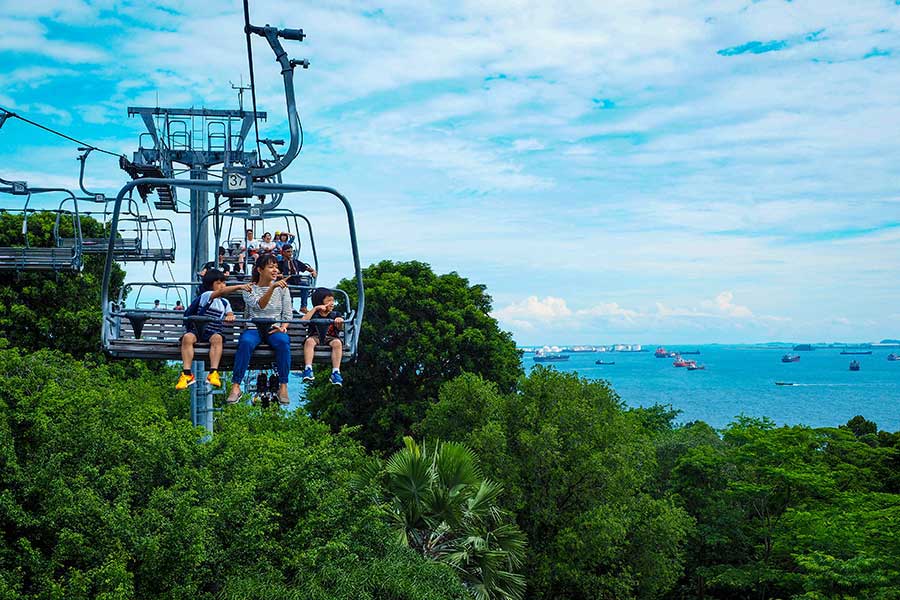 Feeling adventurous? Hop on the luge and enjoy the Skyride at Sentosa. The luge is a unique wheeled gravity ride that enables riders full control over their descent in the tracks provided. It is also an ideal spot for little children, as you may take a ride together with them on the Skyride while enjoying the spectacular bird's eye view on a 4-seater chairlift. You would also be able to view the South China Sea and engrossed with the natural habitat of the island. Thrill-seekers could start exploring the Jungle trail or take up the challenge Dragon trail offers. Have fun with your loved ones with the cool breeze of the island.
4. iFly Singapore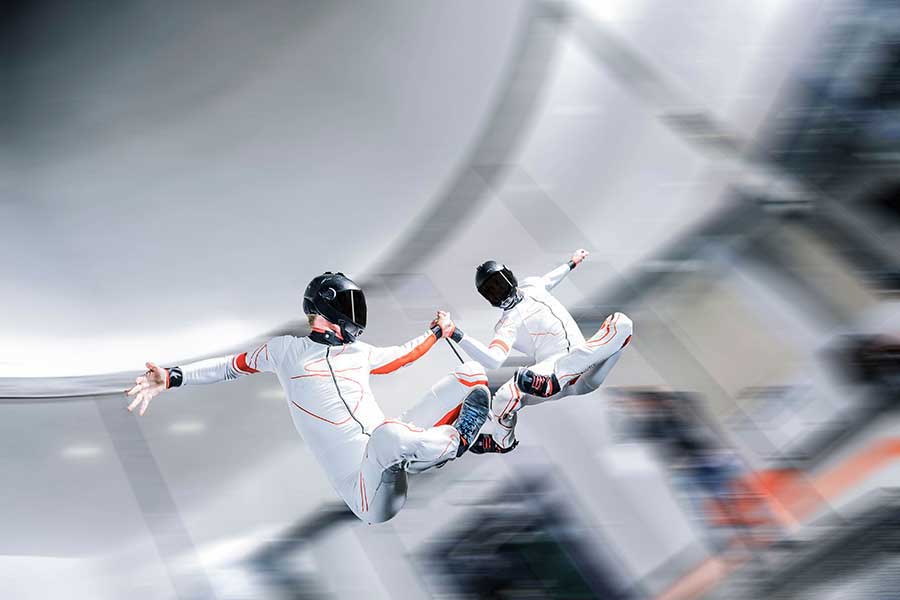 Why invest more in skydiving when you can dive indoors which provides almost the same experience. Fly indoors at iFly Singapore which allows you and your children to have the safe experience of skydiving. This spot would undoubtedly be on your top 10 most memorable moments with your loved ones. iFly Singapore features cutting-edge, state-of-the-art technology that replicates a freefall from over 12,000 to 3,000 feet. Do not forget to claim your skydiving certificate along with memorable stills and video recorded of your experience on your way out (extra charges may be applied).
5. Universal Studios Singapore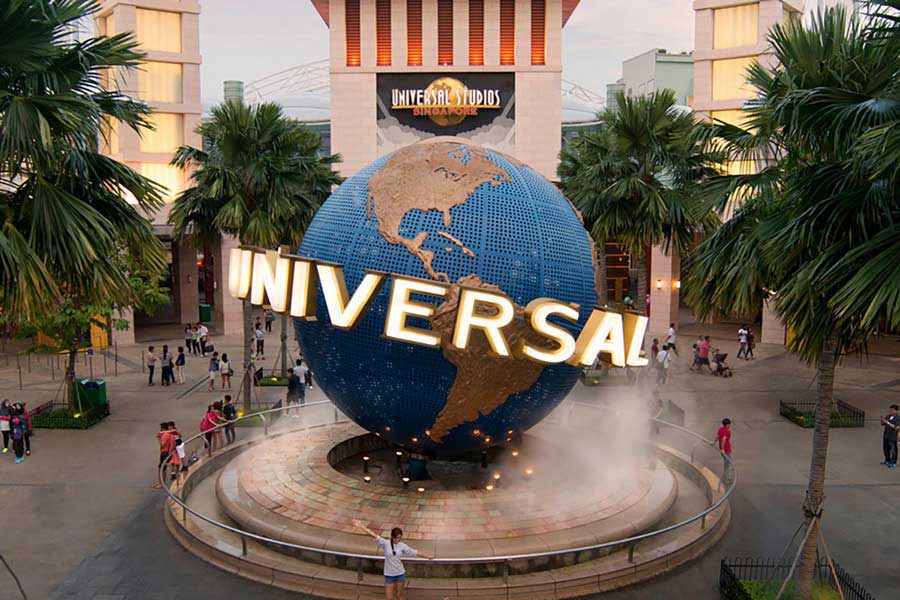 Being a one-stop destination spot, Universal Studios Singapore houses some of the best extreme rides in the world. It is the perfect spot for a family and thrill-seekers. Do not miss out on the Hollywood Dreams Parade, a special show which would bring back most of your beloved childhood characters to life. Go beyond the screen to experience extreme rides and shows based on your favorite blockbuster movies such as Transformers, Revenge of the Mummy, Jurassic Park and several others. Make the best of your time by checking out on the 10 Tips for a Great Universal Studios Singapore Visit.
6. Axe Factor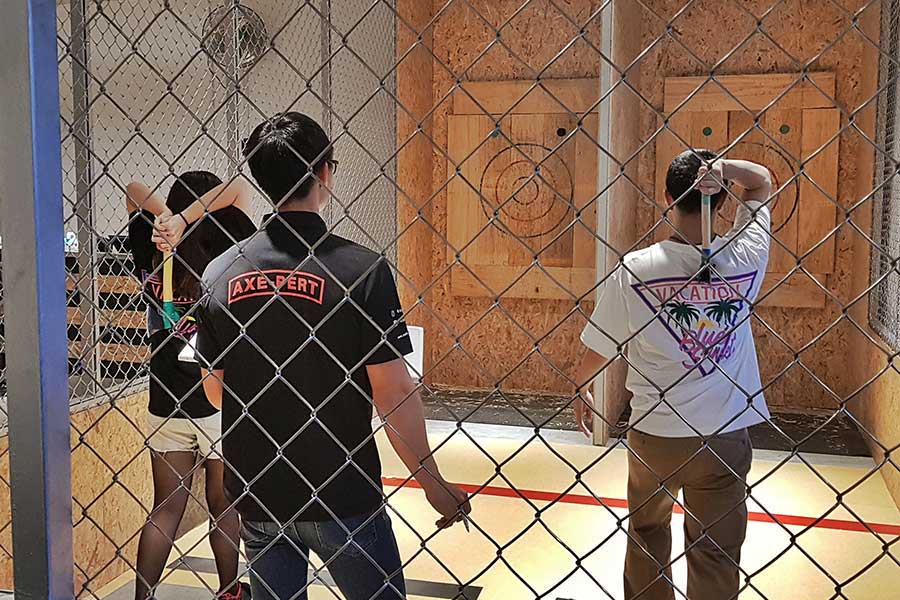 Try out an activity that you rarely or would never have done at the Axe Factor Singapore. Enjoy the therapeutic and adrenaline-pumping experience by throwing axes to the board. Although it may look pretty risky, it is perfectly safe as the veterans will be guiding you on the proper techniques in throwing the axes. Axe throwing is currently trending but there aren't many operational spots throughout the world. Do not miss the chance to try this new concept of competitive sports in Singapore as the ticket prices are fairly cheap as well.
7. Formula One Adventure - Marina Bay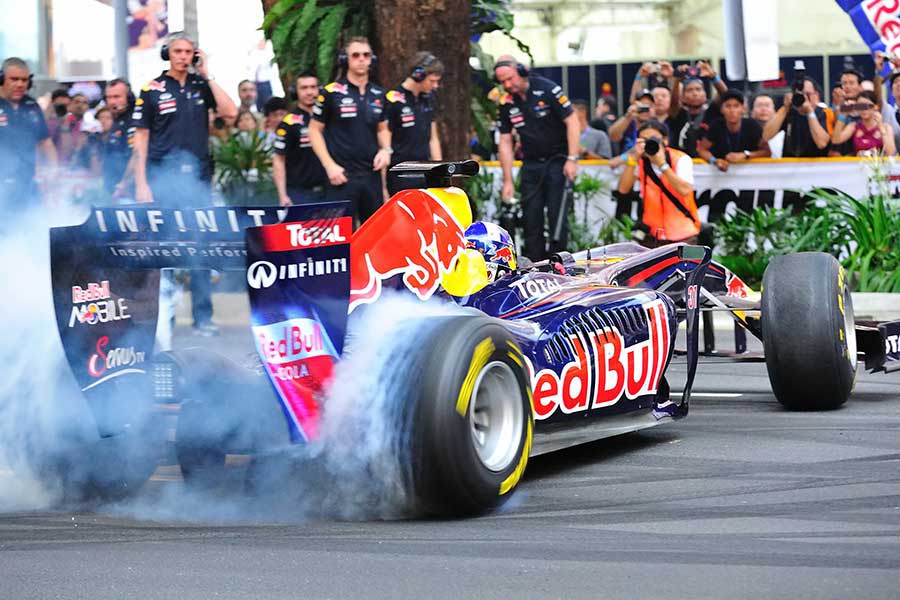 Do not miss out on the exhilarating on-track race action and stellar entertainment which occurs in the Lion City for just three nights every year. Witness some of the world's most revered Formula One racing drivers take to an elaborate street circuit in the heart of Singapore. Feel the rush of the drivers who are strapped into cars with turbocharged engines and as they corner past sharp turns at high speeds while battling it out for the first place. The most dramatic race in the F1 calendar, this year's Singapore Grand Prix takes place from September 20 to 22.
8. Dolphin Island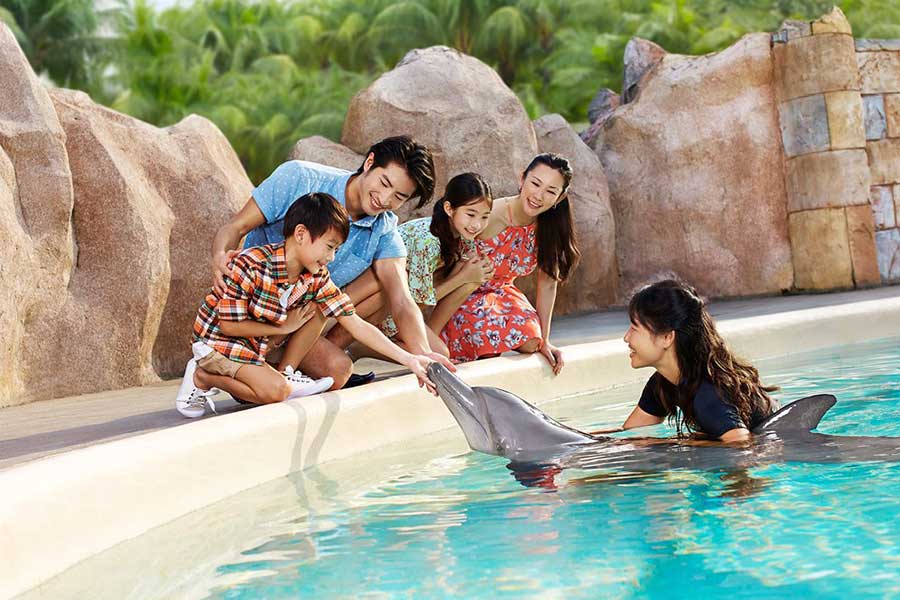 Pump up your adrenaline by visiting the Dolphin Island where you could literally swim with the dolphins. Although it is known as the smartest and friendly creature, it would definitely spike up your adrenaline quite a bit. This could satisfy one of your bucket lists as this is a blue moon opportunity. Wade waist-deep in the water and get up-close and personal with the most fascinating marine mammals of the oceans. You could also learn more about the Indo-Pacific bottlenose dolphins anatomy through the research and veterinary care conducted in Dolphin Island.
9. Forest Obstacles - Bedok Reservoir Park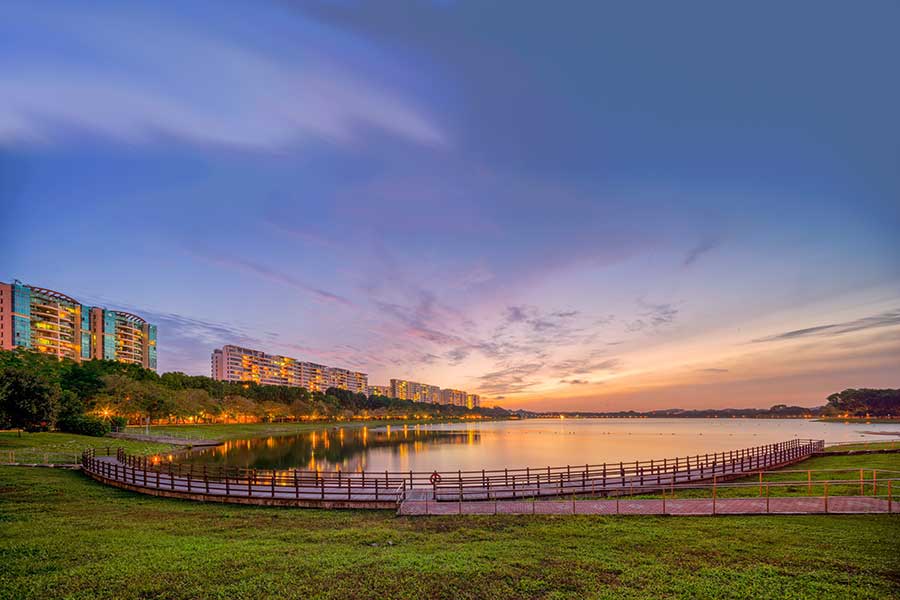 If you're looking for an unforgettable outdoor adventure filled with laughter, adrenaline action and personal achievements then the Forest Obstacles in Bedok Reservoir Park is just the spot for you. There are several types of courses that you could enroll yourself into such as the Grand Course, Junior Course, Big Zip and others. Enjoy the exhilarating fun adventure on the treetops and also the 44 adrenaline-pumping obstacles which include 3 giant zip lines which would definitely be a must-try activity there.
10. Night Safari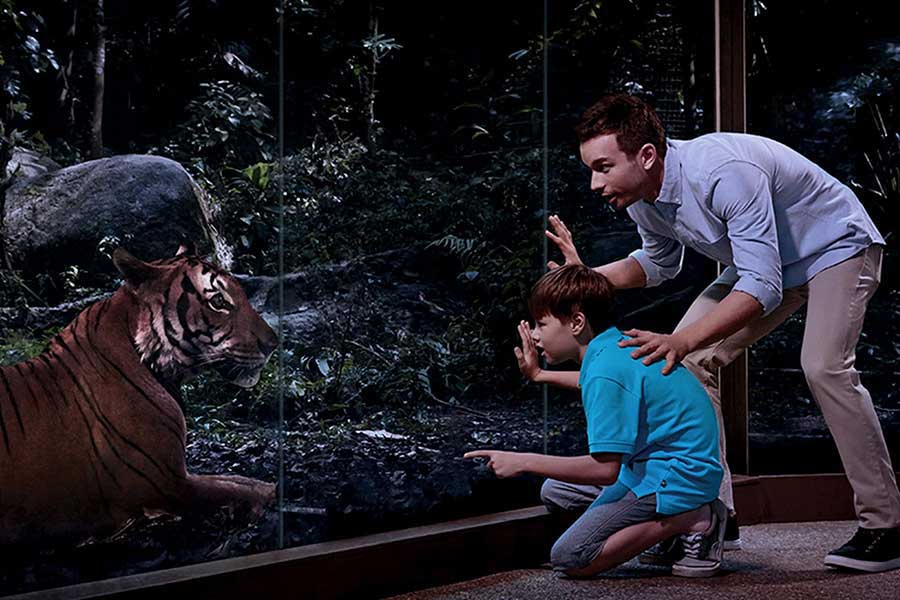 Have a crack at the world's first nocturnal zoo, Night Safari with over 1,000 necrophilia animals start their nightly rituals. As dusk falls, embrace yourself to get up-close and personal with the creatures as they graze, hunt and frolic. Hop on the thrilling and exciting tram ride which would tour you around the variety of animals in the Night Safari. The Night Safari operates from 7.30 pm to 12 am every day. You can also visit the Singapore Zoo during the day and the River Safari from 10 am till 7 pm. Save a day to fully explore the terrestrial wildlife in the Lion City.
11. Indoor Surfing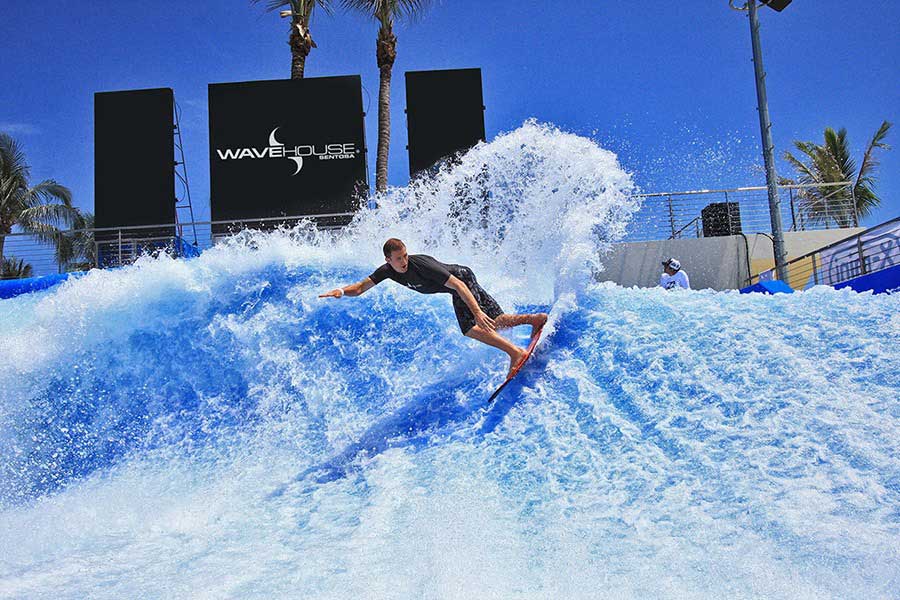 Why go through all the hassle surfing outdoors, waiting for the perfect wave and tide when you can do it just as perfectly indoors at the SURF COVE by Wave House Sentosa. It is one of the largest lifestyle, recreational hubs and water theme parks in Asia. The Wave House Sentosa is open daily. However, there are different timing for the two waves which are Double FlowRider which sessions every hour and the FlowBarrel which operates every 30 minutes. Get your 'Surf-On' and do check out plenty of other activities on Sentosa Island such as the S.E.A Aquarium, Adventure Cove Waterpark, Universal Studios and other attractions.
12. Red Dynasty Paintball Park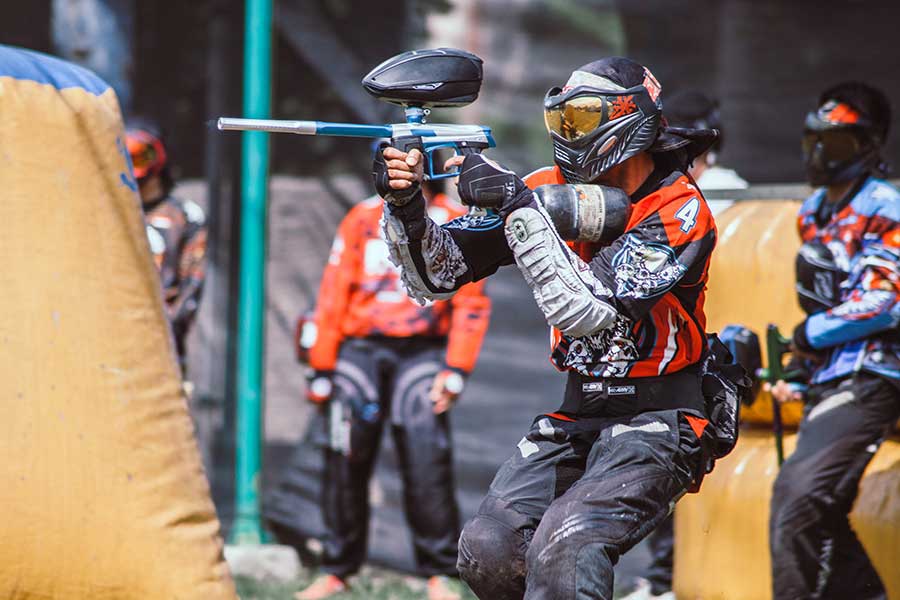 Action block movie and Counter-Strike lovers, Red Dynasty Paintball Park is made especially for you. Unleash the combat talent of yours in the variety of missions provided here such as 'Mad Dog', 'Rambo', 'The Godfather', 'James Bond' and several others. Each package consists of a specific mission and the selected number of paintballs or paints bullets for you to equip. Adrenaline junkies, what is a better way to spike up your rush rather than being in a gunfight. You can participate as a team or even solo where you will be assigned to a group available. It is also a great platform for you to seek out for other thrill-seekers to share on more activities to be done here in the Lion City. The safety measures are well taken care of to prevent any unwanted injuries as the goal is for you to have quality and safe time while participating in the paintball war.
13. River Safari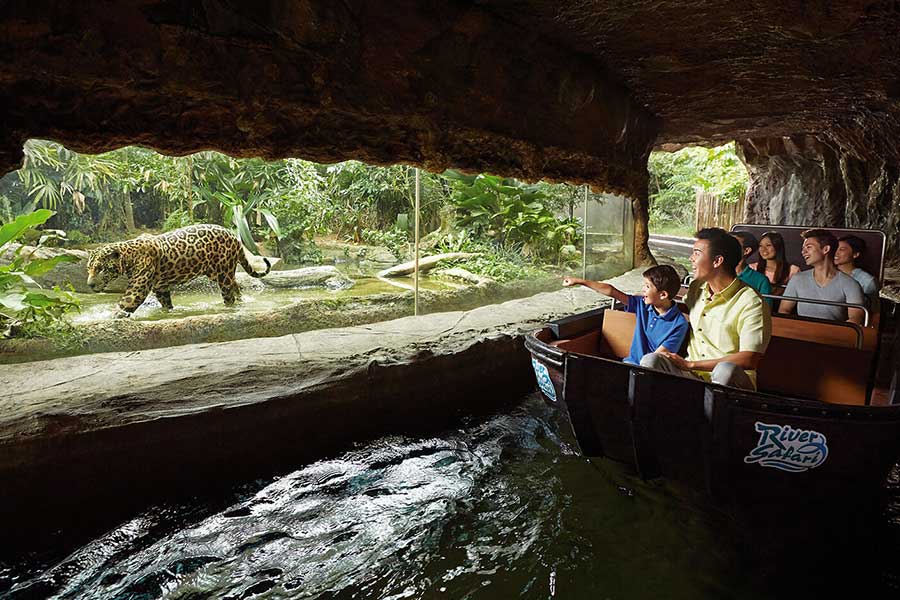 Prepare to be amazed by Asia's first river-themed wildlife park and also the largest freshwater aquarium, River Safari. Witness varieties of animals from piranhas to pandas also monkeys to monitor lizards. Embark on the boat rides which tours you around the habitats of the wildlife giving you an up-close view on the amazing and nurtured animals. Do visit the Night Safari as well which operates from 7.30 pm to 12 am every day at the Singapore Zoo during the day.
14. Kayaking - Mandai Mangroves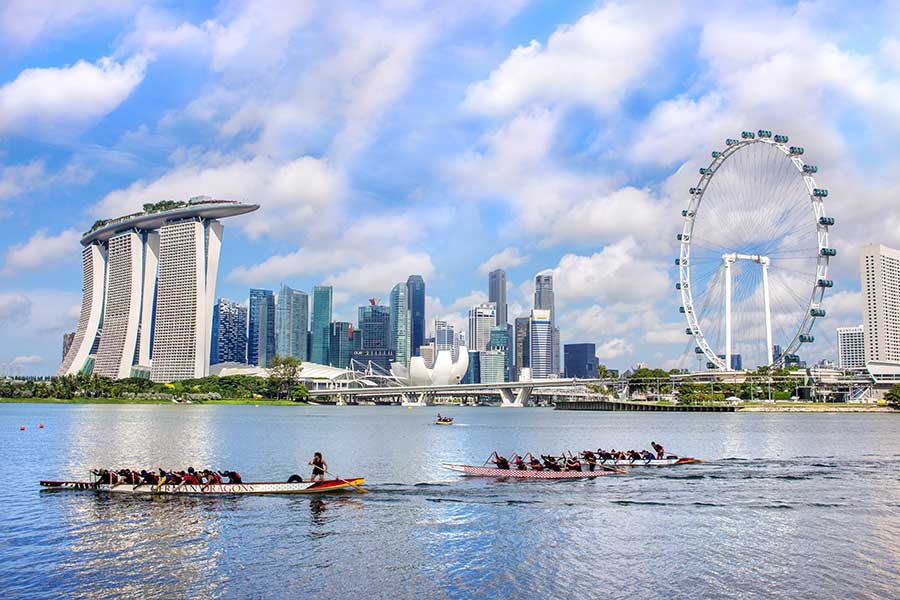 Spice up your thrill adventure by Kayaking through the Mandai Mangroves with the guide of Nature Society Singapore. Mandai Mangroves is known as an essential biodiversity area. There are two types of the trip which is the Mangrove Kayakingwhich takes approximately around 4 hours and the Ubin Bisect Kayaking which is a level higher and considered to be more adventurous. The destination to be is Pulau Ubin, where you could board a ferry from Changi Point Ferry Terminal which would be a 15 minutes ride. Once you've landed in Pulau Ubin, soak in the island's atmosphere before proceeding as it is a rustic and untouched island with loads of nature's beauty. If it is your first time, don't sweat it, as there will be experts guiding and educating you on the safety measures and techniques.
15. Scuba Diving - Sister's Island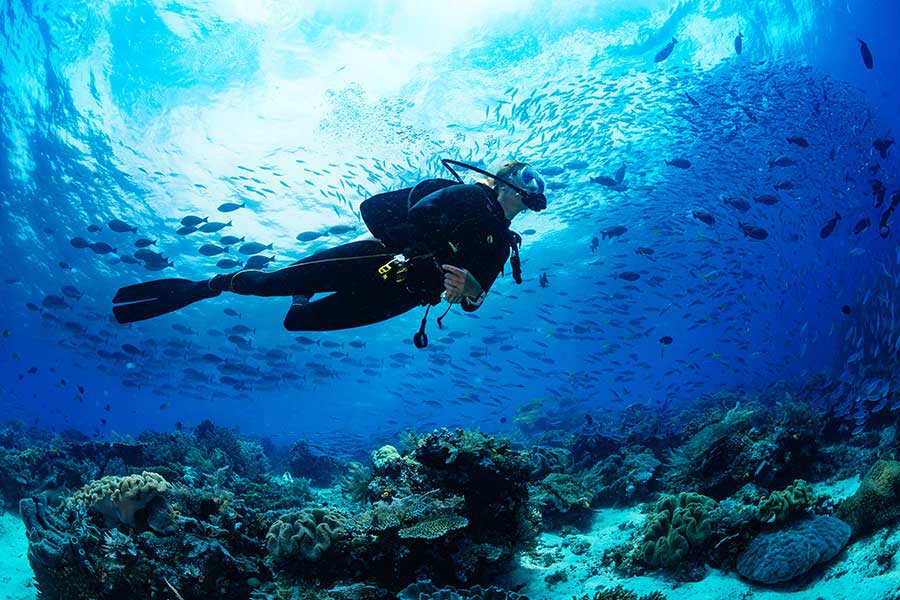 Ever wondered what life underwater is like? Well, dive deep into Singapore's marine biodiversity at Sister's Island. This scuba diving trail was established by the Singapore National Parks Board to encourage deeper gratitude to Singapore's marine life. There are two sets of trials which are shallow and deep trails. Divers will be guided by experts through 20 stations marked by signs and be explained about the variety of marine biodiversity and reef features present in Singapore's waters. There are certain skill sets required before you could participate in deep diving. Even if it is your first time, do not worry as the expert divers of the Singapore National Parks Board will be teaching you on the techniques and safety measures before you start on the journey to the underwater. It is a totally different world as most would say it, hence, do not miss out on the chance to witness it.
16. Freefall Adventure (Skydiving) - Sentosa Island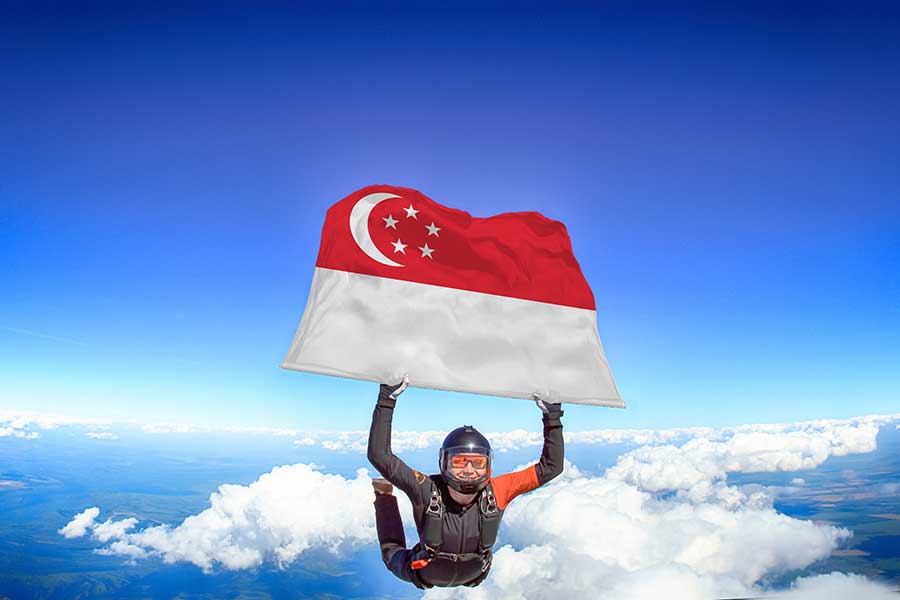 Experience real and authentic freefall feeling at the Sentosa Island Singapore. There is a group of skydivers from Singapore made up of USPA rated coaches, AFF instructors, tandem instructors, examiners and wind tunnel coaches who will be preparing you before your skydive. What better way could you really pump up your adrenaline that freefalling? Adrenaline junkies and thrill-seekers, this is as extreme as you could get in testing your limits and overcoming your fear. By passing the AFF course, you will be allowed to jump solo as you will be trained to pull your own parachute and do aerobatic maneuvers. Hence, believe that you can fly and experience the magical feeling of falling down to earth. While you are in Sentosa Island also check out on the 15 Best Attractions in Sentosa Island Singapore for a Fun Day Out to try out other extreme adventures.
17. Stand-up Paddle - Tanjong Beach, Sentosa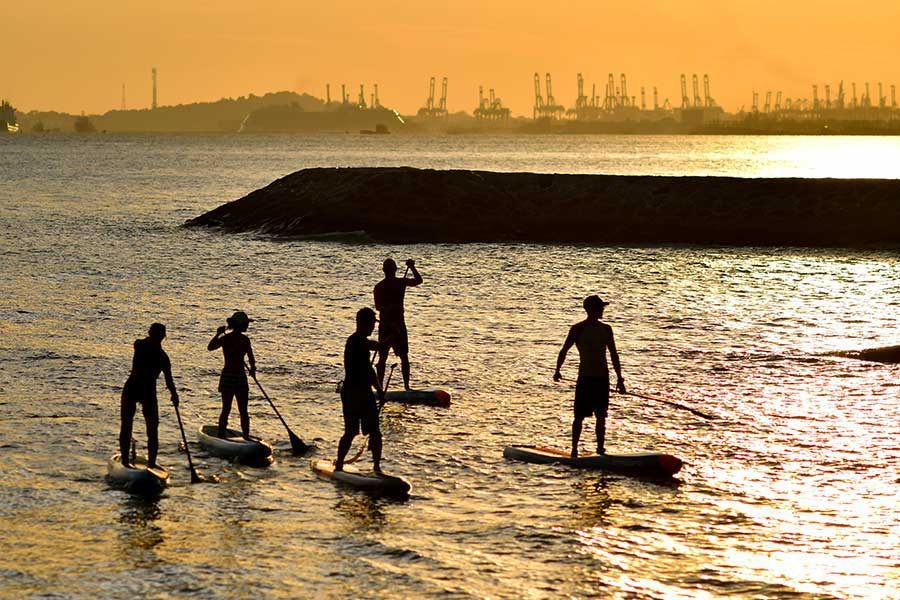 Sign up for a great water adventure which is the Old Stand-Up Paddleboard at Siloso Beach, Sentosa. Experience the buster workout which tests your fitness by paddling while standing up while enjoying the cool breeze, waves and beautiful oceanic view for an hour. The service commences daily from 10 am till 6 pm at where you could purchase your tickets at the Sentosa Ticketing Counters in Beach Station, Imbiah Forecourt, Imbiah Lookout and Sentosa Boardwalk. The best part about this activity is there is no experience needed and lifejackets will be provided ensuring the safety of the users.
18. Adventure Cove Waterpark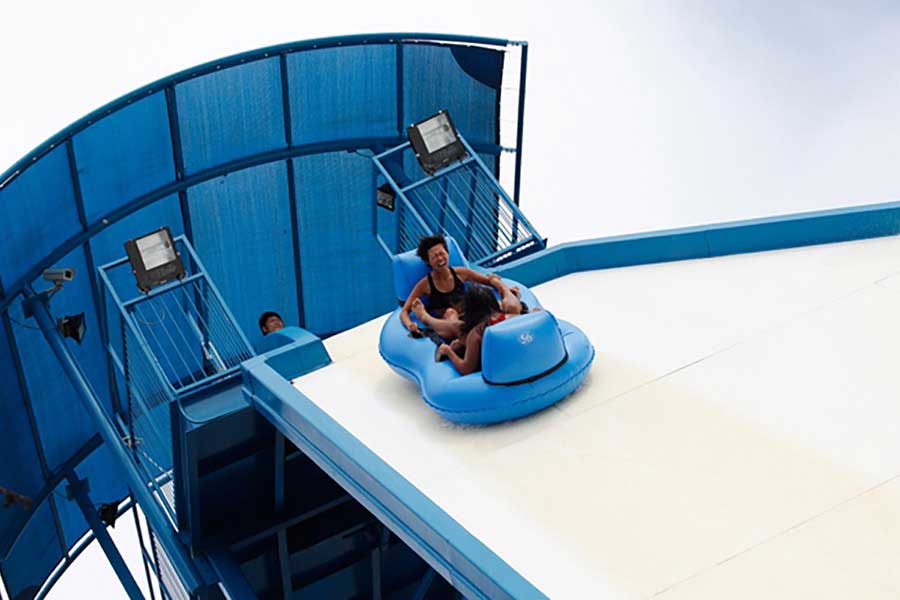 Combine daredevil activities together with splashes of water at the Adventure Cove Waterpark. Ride on the spectacular water slides which definitely pump up your adrenaline. Create memorable moments by trying out the exciting slides, tube rides, regions first hydro-magnetic coaster, Adventure River, and wave pool. Do not miss out on the leisurely tube through the underwater tunnel. Do immerse yourself in the aquatic park to snorkel over 20 000 colorful fishes and spectacular coral reefs. It is definitely a must to check out the S.E.A. Aquarium as well which houses more than 100,000 ocean animals over 100 species.
19. Bukit Timah Mountain Bike Trail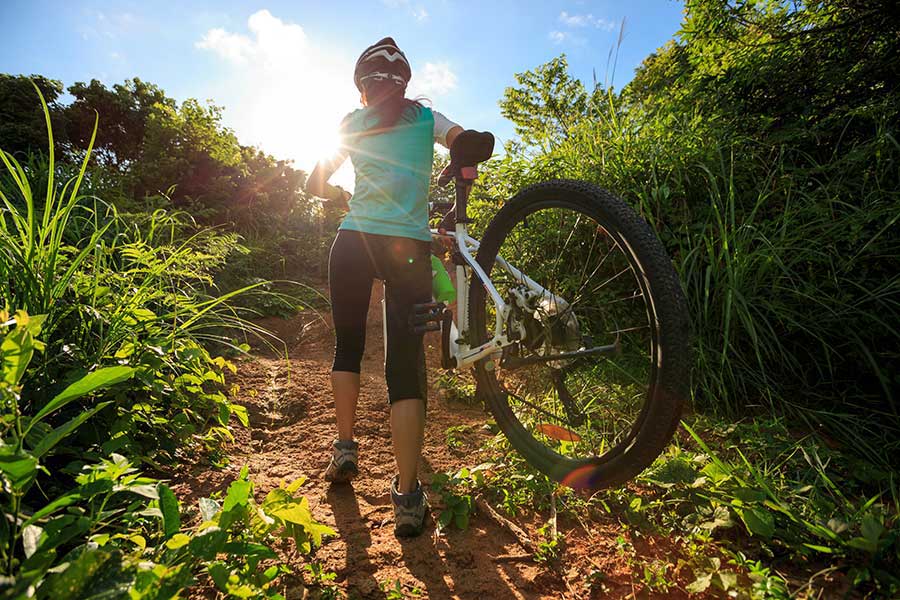 The best spot for a mountain bike adventure would definitely be Bukit Timah Mountain Bike Trail. It is a spot which regular mountain bikers or local bikers would have visited at least once. It is also one of the first riding trails built for cycling enthusiasts which offer a spectacular gateway to cycle in the tropics. Given the fact that there are several entry points to this trail, start with the Hindhede Road which is a convenient trail pathway, to begin with. You could also start from the Dairy Farm Nature Park carpark along the Dairy Farm Road as it is the perfect spot to unload your bikes without getting in anyone's way.
20. G-Max Reverse Bungy at Clarke Quay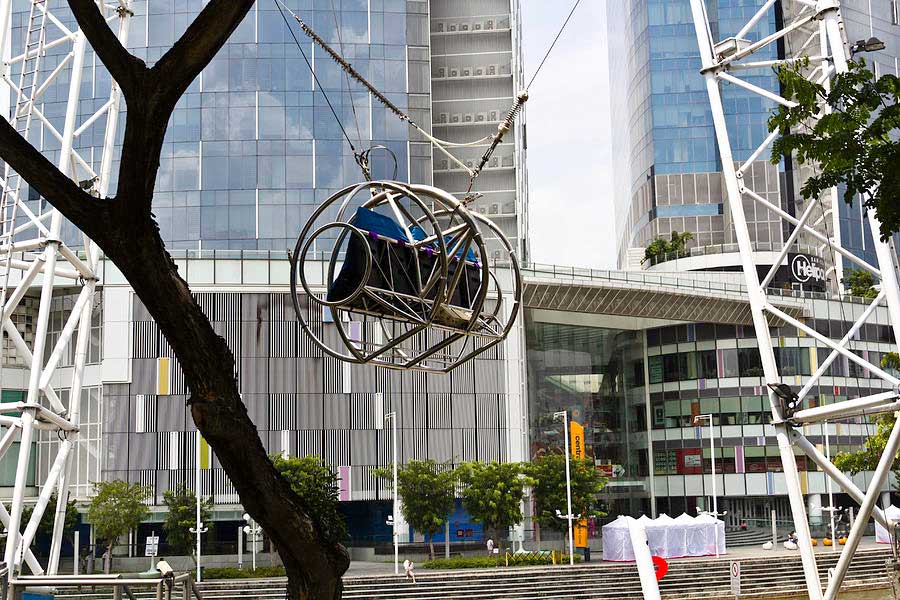 G-Max Reverse Bungy is definitely one of the greatest thrills to try out in Singapore. It is located at the famous nightlife hub of Clarke Quay. This Reverse Bungy works in such a way where you will be strapped into the capsule while on the ground, which works like a catapult and lunges you about 60 meters high up the air at the press of a button. It is incredibly fast and would be the favorites of adrenaline junkies and thrill-seekers for sure. The operation hour, however, may be affected due to wet weather hence do try it out when the sky is clear.
More tourism service in Singapore

You can plan out your interests by checking out the attraction tickets offered to save more. Also, make the most of your trip by checking out the Tour Packages offered by TheWalkingSingapore or use the best PMDs rental services at Joyscoot to get about Singapore.
You may also like to read more about Singapore: 10 Tips for a great Universal Studios Singapore visit
Posted: 2020-02-17 10:14:17